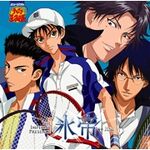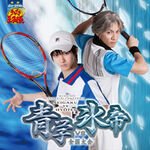 'Jimonjitou' (自問自答 Jimonjitō) is performed in:
Tezuka Kunimitsu Omae wa ittai nani wo shite irun da?

Kata ga agaranai no wa Omae ga okubyou na dake dazo

Ippo wo fumidase Ano ko no you ni

Kyoufu ni uchikate Ano ko no you ni


Tezuka Kunimitsu Konna koto de ii to ieru no darou ka?

Zenkoku taikai ni wa Ma ni awasenakute wa naranai

Itami wo wasurero Ano ko no you ni

Kinchou wo suruna Ano ko no you ni


Shanimuni Torai suru gattsu

Shindemo Akiramenai kakugo

Girigiri made oitsumenakereba

Nanimo kawaranai no wa Omae ni mo wakatte iru ja nai ka


Tezuka Kunimitsu Iu koto wo kikanai kono karada

Jizai ni ayatsuru no wa Onore no mi

Onore ga onore wo seigyo suru

Sono tame ni Kokufuku suru no wa

Mogaki kurushinda kako no kioku


Ore wa guzuguzu nado shite irarenai

Matte iru nakama no tame ni mo

Ahhh Ahhh

手塚国光 お前はいったい何をしているんだ?

肩が上がらないのは お前が臆病なだけだぞ

一歩を踏み出せ あの子の様に

恐怖に打ち勝て あの子の様に


手塚国光 こんなことで良いと言えるのだろうか?

全国大会には 間に合わせなくてはならない

痛みを忘れろ あの子の様に

緊張をするな あの子の様に


遮二無二 トライするガッツ

死んでも 諦めない覚悟

ギリギリまで追いつめなければ

何も変わらないのは お前にも分かっているじゃないか


手塚国光 言う事を聞かないこの体

自在に操るのは 己のみ

己が己を制御する

そのために克服するのは

もがき苦しんだ過去の記憶


俺はグズグズなどしていられない

待っている仲間のためにも

Ahhh Ahhh

Sources
Ad blocker interference detected!
Wikia is a free-to-use site that makes money from advertising. We have a modified experience for viewers using ad blockers

Wikia is not accessible if you've made further modifications. Remove the custom ad blocker rule(s) and the page will load as expected.