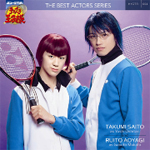 'Jump To It!' is a song exclusive to the fourth Best Actors Series CD featuring Aoyagi Ruito and Saito Takumi.


TSUMARANAI Yatteran nai neE
KUDARANAI Yatteran nai neE
Datte Datte
Jiyuu janakya
Nan no imi mo nai jan


Tobitakerya Tondemiryai-jan
Yaritakerya Yattemiryai-jan
Nanka Nanka
IKEnai COURT Ore icchatten no?


Daremo daremo Inakutemo
Kuyashiku mo Samishiku mo nai yo
Ore wa ore wa Ore no COURT
Dare yori mo Shinjichatterun da


Shirabakkurete Warau yori
Kakurenboshite Nigeru yori
Kutabacchauto Omou hodo
Yume michatte
Tobi hanette ii jan?


Kizudarakede Sou
Jump Jump away
Tobi koe youze
Jump Jump away
Donna toki datte
Tama ni wa Kongaragatte
Ochiru toki datte Arukedo ne
Sore de OK jan?


Yume no KAKATO
Motto Keriageta nara
Kitto todoku ze


KITSUItoka Itteran nai neE
TSURAItoka Itterran nai neE
Datte Datte
KIRAI janai
Narayaru shika nai jan?


Tomaranai Tomenakeryai-jan
Makerarenai Makenakeryai-jan
Datte Datte
Sore igai ni Nani kangaeten no?


Shiranai shiranai COURT nante
Iranaitte Omottokeba ii jan?
Hitsuyou naraba Nanto naku
Shiranu ma ni Oboechau MONO sa


Omoi agare Sora takaku
Sore wa sore de Yari kata sa
Machigatteru kai? Sore ga nani?
Kimeru no wa
Ore jishin nan jan?


Doko kara demo Sou
Jump Jump away
Tobi koe you ze
Jump Jump away
Donna ashita datte
Takameta Shin haku suu de
Kinou yori motto
Jump Jump away
Maketeran nai ne


Yume no KAKATO
Tsuyoku Fumi kondanara
Kitto yukeru sa


Kawa wo tobi koetari
KABE kara JUMP shitari
GAKI no koro to Nani mo kawaranai yo
COURT ni tatsu Kyou datte

つまらない やってらんないねぇ
くだらない やってらんないねぇ
だってだって 自由じゃなきゃ
なんの意味もないじゃん


とびたけりゃ とんでみりゃいいじゃん
やりたけば やってみりゃいいじゃん
なんかなんか いけないことオレ言っちゃってんの?


誰も誰もいなくても くやしくもさみしくもないよ
オレはオレはオレのこと
誰よりも信じちゃってるんだ
しらばっくれて 笑うより
かくれんぼして 逃げるより


くたばっちゃうと思うほど
夢見ちゃって 飛び跳ねっていいじゃん


傷だらけで そう Jump Jump away
飛び越えようぜ Jump Jump away
どんな時だって
たまにはこんがらがって
落ちるときだってあるけどね それでOKじゃん?
夢のかかと もっと蹴り上げたなら
きっと届くぜ


キツイとか 言ってらんないねぇ
ツライとか 言ってらんないねぇ
だってだって キライじゃない
ならやるしかないじゃん?


止まらない 止めなけりゃいいじゃん?
負けられない 負けなけりゃいいじゃん?
だってだって それ以外に何考えてんの?


知らない知らないことなんて
いらないって思っとけばいいじゃん?
必要ならばなんとなく 知らぬ間に覚えちゃうもんさ
思い上がれ空高く それはそれでやり方さ
間違ってるかい?ソレが何
決めるのはオレ自身なんじゃん?


何処からでも そう Jump Jump away
飛び越えようぜ Jump Jump away
どんな明日だって
高めた心拍数で
昨日よりもっと Jump Jump away
負けてらんないね


夢のかかと 強く踏み込んだなら
きっと行けるさ


川を飛び越えたり カベからジャンプしたり
ガキのころと何も変わらないよ
コートに立つ 今日だって


傷だらけで そう Jump Jump away
飛び越えようぜ Jump Jump away
どんな時だって
たまにはこんがらがって
落ちるときだってあるけどね それでOKじゃん?


夢のかかと もっと蹴り上げたなら
きっと届くぜ

Sources
Ad blocker interference detected!
Wikia is a free-to-use site that makes money from advertising. We have a modified experience for viewers using ad blockers

Wikia is not accessible if you've made further modifications. Remove the custom ad blocker rule(s) and the page will load as expected.