KENN

Now

-

TeniMyu

Information
Japanese Name
大橋 賢一郎 〈おおはし けんいちろう〉
Romaji
Ōhashi Ken'ichirō
Born In
Tokyo, Japan
Birthday
March 24, 1982
Age
35
Character
Fuji Yuuta
Generation
St. Rudolph 1st
Portrayers
Previous
N/A
Next
Konishi Seiya
Ken'ichirō Ōhashi (大橋 賢一郎 Ōhashi Ken'ichirō, born March 24, 1982 in Tokyo), better known by the stage name KENN, is a Japanese singer, voice actor, and stage actor headed by DreamWeaver Inc. He was the vocalist of the rock band The NaB's.
He made his debut as voice actor 2004 in the Japanese anime Yu-Gi-Oh! GX (Yu-Gi-Oh! Duel Monsters GX in Japan) as Judai Yuki, the protagonist of the series and his most known role.
He performed in the musical adaptation of the popular sports anime The Prince of Tennis as Fuji Yuuta, the younger brother of Seigaku's Fuji Shusuke as a part of the first-generation St. Rudolph cast.
TeniMyu
Theater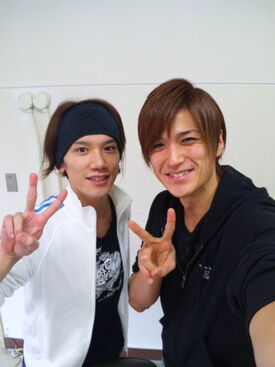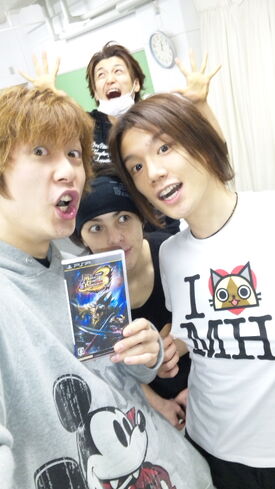 ミュージカル エア・ギア(2007年1月、再演2007年5月、再々演2010年4月) - 美鞍葛馬 役
vs. バッカス Super Range Remix
vs. BACCHUS Top Gear Remix
マリア・マグダレーナ来日公演『マグダラなマリア』 - カール男爵 役
〜マリアさんのMad (Apple) Tea Party〜(2008年11月)
〜マリアさんのMad (Apple) Tea Party (Reprise!)〜(2011年5月- 6月)
〜魔愚堕裸屋・恋のカラ騒ぎ〜(2011年10月)
舞台版『ミラクル☆トレイン〜大江戸線へようこそ〜』 - 六本木史 役
ミラクル☆トレイン〜大江戸線へようこそ〜(2010年12月)
ミラクル☆トレイン〜大江戸線へようこそ〜 2nd approach(2012年4月)
Other Performances
NAO-TA! プロデュース Vol.3 one and only 会えるよ…ほらね(2006年3月) - マサル 役
劇団おっ、ぺれったプロデュース ご都合主義で行こう!(2006年5月) - 北村東 役
NAO-TA! プロデュース Vol.4 REPLAY(2007年3月) - 剣崎しん 役
WAKU & Kart Promotionプロデュース Magic 〜そこにいてもいなくても〜(2007年7月) - 木村ひろみ 役
SMILY☆SPIKY コントライブ それかおじゃん。(2007年11月) - カオ・スチョン、中島登 役
アマデウス・ジャパン(2007年12月) - 若き日のアマデウス・ジャパン 役
ミュージカル しゅごキャラ!(2009年8月) - 月詠イクト 役
美童浪漫大活劇 『八犬伝』 <第一部>(2010年7月) - 犬塚信乃戍孝 役
降臨 Fight(2011年4月)- 直江兼続 役
三ツ星キッチン第6弾オリジナルミュージカル『East Side Story』(2011年12月)- 松岡准 役
Filmography
TV
ピカピカプリンス(テレビ東京:2003年10月 - 2004年3月)
JUMP!JUMP!JUMP!「Jumpフォーカス」ナレーション(tvk:2007年10月)
もらため! 〜知って得する情報バラエティー(MBS:2008年10月) - イケメンサロン「もらため」癒され隊隊長 役
お願い!ランキング「雄二のぶっちゃけ部屋」(テレビ朝日:2012年6月6日) - 平野綾と共にゲスト主演
Dramas
DVDドラマ 斬セイバー(ナレーション)
携帯ドラマ 俺たちのリレーション(海野浩介)
テレビドラマ 貧乏男子 ボンビーメン 第3話
Movies
Websites
Ad blocker interference detected!
Wikia is a free-to-use site that makes money from advertising. We have a modified experience for viewers using ad blockers

Wikia is not accessible if you've made further modifications. Remove the custom ad blocker rule(s) and the page will load as expected.