Kaminaga Keisuke

Now

-

TeniMyu

Information
Japanese Name
神永 圭佑(かみなが けいすけ)
Romaji
Kaminaga Keisuke
Born In
Ibaraki Prefecture, Japan
Birthday
August 12, 1994
Age
22
Character
Yukimura Seiichi
Generation
Rikkai 2nd
Portrayers
Previous
Masuda Toshiki
Keisuke Kaminaga (神永圭佑 Kaminaga Keisuke), born on August 12, 1994, is a Japanese actor from the Ibaraki Prefecture of Japan. He's headed by Production Ogi.
In the 2010 Kaminaga participated in the 23rd Junon Super Boy Contest and successfully slipped into the finals of the competition. His participation caught the attention of talent agency Production Ogi and he was contracted with them shortly after the event.
He played the character Yukimura Seiichi as a part of Rikkai 2nd, the third-generation Rikkai cast but the first for the second season of TeniMyu.
TeniMyu
Theater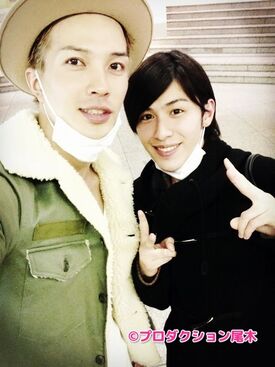 劇男JB(2011年5月3日 - 5日)
激動-GEKIDO- (2013年8月23日-9月2日 新国立劇場 中劇場)
朗読劇「しっぽのなかまたち3」(2013年11月19日-22日、11月26日-12月1日、天王洲銀河劇場) - 小雪/近藤悠太/レオン/醍醐二郎/もずく 役
俺たちの明日 (2014年1月10日 - 19日、紀伊國屋ホール) - 柿ノ木剛 役
美女と魔物のバッティングセンター (2014年3月25日 - 30日、恵比寿・エコー劇場) - 聖矢 役
幕末奇譚 SHINSEN5 〜外伝〜 (2014年4月9日-13日、銀座・博品館劇場) - 主演・沖田総司 役
あの頃僕らはペニーレインで (2014年5月3日 - 6日、日本橋三井ホール) - マサヒロ 役
Filmography
TV
花ざかりの君たちへ〜イケメン☆パラダイス〜2011(2011年7月 - 9月、フジテレビ) - 葛西 豪 役
金曜プレステージ・特別企画 悪女たちのメス(2011年12月9日、フジテレビ) - 望月悠 役
さばドル(2012年1月 - 3月、テレビ東京) - ウタマロ 役
仮面ティーチャー(2013年7月 - 9月、日本テレビ) - 小林翔平 役
警視庁捜査一課9係 season8 第4話(2013年7月31日、テレビ朝日) - 三橋栄司 役
ダンダリン 労働基準監督官第2話(2013年10月9日 、日本テレビ)
刑事のまなざし第6話(2013年11月11日、TBS) - 佐々木勉 役
金曜ロードSHOW! ・特別ドラマ企画 『仮面ティーチャー』(2014年2月14月、日本テレビ) - 小林翔平 役
Movies
幕末奇譚 SHINSEN5 ~剣豪降臨~(2013年2月23日公開) - 沖田総司 役
Websites
Ad blocker interference detected!
Wikia is a free-to-use site that makes money from advertising. We have a modified experience for viewers using ad blockers

Wikia is not accessible if you've made further modifications. Remove the custom ad blocker rule(s) and the page will load as expected.