Toru Kamitsuru (上鶴 徹 Kamitsuru Tōru), born on June 26, 1989, is a former Japanese actor from the Hyogo Prefecture of Japan. He's headed by Watanabe Entertainment and is part of the D-BOYS subgroup, D2.
In TeniMyu he played the sixth-generation Momoshiro Takeshi as a part of Seigaku 6th, the first Seigaku cast of the second season.
TeniMyu
Theater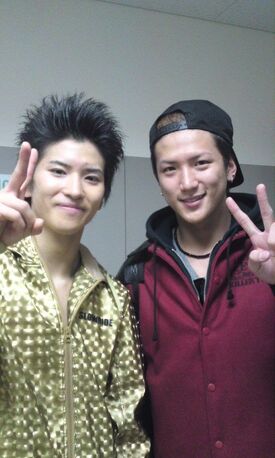 D-BOYS
vol.2「ラストゲーム〜最後の早慶戦〜」(2008年6月)
vol.3 鴉〜KARASU〜10(2009年10月)
2010 trial-2「ラストゲーム」(2010年8月- 9月) - 若村 役
Other Performances
結婚の条件(2008年9月)
イタズラなKiss -卒業編-(2009年8月) - 江戸純平 役[8]
ミュージカル 忍たま乱太郎(2010年1月/6月 - 7月) - 中在家長次 役
Dステ12th「TRUMP」(2013年1月 - 2月) - ダリ・デリコ/スチューデント・ロートレク 役
WBB vol.4「川崎ガリバー」(2013年4月20日 - 28日、青山円形劇場)
Filmography
TV
愛の劇場 ラブレター 第3部(2009年1月 - 2月、TBS) - 塚越隼人 役
ごくせん 卒業スペシャル'09(2009年3月28日、日本テレビ)
チーム・バチスタ2 ジェネラル・ルージュの凱旋 第7話(2010年5月18日、フジテレビ) 
美丘-君がいた日々- 第1話(2010年7月10日、日本テレビ) 
Movies
ごくせん THE MOVIE(2009年7月)
鷲宮☆物語 商工会の挑戦(2010年) - 宮田隆 役 (主演)
ポールダンシングボーイ☆ず(2011年) - カミツル 役
ガチバン スプレマシー2(2012年)
Websites
Ad blocker interference detected!
Wikia is a free-to-use site that makes money from advertising. We have a modified experience for viewers using ad blockers

Wikia is not accessible if you've made further modifications. Remove the custom ad blocker rule(s) and the page will load as expected.