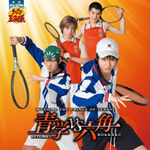 'Kantou Taikai Junkesshou da ze!' (関東大会準決勝だぜ!), also known as 'These are the Semifinals of the Kantou Tournament!' is seen in:
HEI HEI! BRAND NEW na mainichi

Oretachi Nandaka Shinsen

HEI! HEI! SOMETHING NEW na FEELING

Oretachi Tottemo WAKUWAKU


Atarashii SHIRT Kyou hajimete kitanda kedo Dou?

Chotto matta matta

Nani nani?

Kore, sakki yatta

Are? Sou dakke

A, tashika ni. Yatta kamo shinnai

Desho?

Sonna koto yori sa, Seigaku saikou!

Konkai mo kateru kana?

Zettai kateru yo

Kattara kesshou da yo


SanninYattaze yatta

Seigaku shouri da

Kesshousen ni shinshutsu

Donna TEAM ga kitatte Shouri machigai nashi da!

ヘイヘイ!ブラン ニューな毎日

俺たち なんだか 新鮮

ヘイヘイ!サムシン ニューなフィーリン

俺たち とっても ワクワク


新しいシャツ 今日初めて着たんだけど どう?

似合ってるよ 堀尾君

ちょっと 身長伸びたから おろしたてのズボンなんだ

なかなかいいぜ カチロー

昨日徹夜で作ったんだけど いる?

カツオくん

もちろん!


関東大会2日目 緑山中と試合さ

この試合勝てば ベスト4って事だね

絶対負けられないよね 準決勝進出のためには


カチロー: まずはダブルス2だよね。乾先輩と海堂先輩!

カツオ: 相手は北村と高瀬という選手だよ。ひとりは訛ってるね

堀尾: 海堂先輩の粘り勝ち!ていうか相手に粘りなさすぎ!

審判の声: ガームセット!ウォン バイ 青学、乾.海堂! 6-1!


堀尾: 次は桃ちゃん先輩と菊丸先輩のペアだ

カチロー: 相手は源と羽生っていう選手だよ

カツオ: 桃ちゃん先輩のダンクスマッシュで ドンと決めちゃってくださーい!

三人:ドーン!

審判の声:ガームセット!ウォン バイ 青学、菊丸.桃城!6-3!


カツオ:さてさてシングレス3、リョーマ君の出番ですよ

堀尾:対戦する相手、もとプロの息子だってよ

カチロー:堀尾君がいばらないでよ

カツオ: 季楽靖幸って名前、聞いたことある? お父さんがコーチについてて強敵らしいよ

審判の声:ガームセット!ウォン バイ 青学、越前!6-1!


やったぜやった

青学勝利だ

ベスト4に進出

準決勝と言うことは 全国大会行きだ!

Hey Hey It's a Brand New Day

We are rather Fresh

Hey Hey! It's some new Feeling

We are very excited


I have a new shirt
Today it's the first time I'm wearing it What do you think of it?

It suits you Horio-kun

Hey, because I grew I have brand-new pants

They're nice Kachiro

Yesterday I worked all night on those, will you wear them?

Katsuo-kun

Of course!


It's the second day of the Kantou Tournament, the match with Midoriyama

If we win this match, we are in the best 4

We definitely can't lose, in order to reach the semi-finals


First is doubles 2. Inui-senpai and Kaidou-senpai!

Their opponents are Takase and Kitamura. It's like a singles game

It's Kaidou-senpai's win! He had too much perseverance 

Game-Set Won by Seigaku Inui-Kaidou! 6-1!


Next is Momo-chan-senpai en Kikumaru-senpai

Their opponents are minomoto and habu

Momo-chan-senpai decide this match DON with you Dunk Smash

DON!

Game-set Won by Seigaku Kikumaru-Momoshiro! 6-3!


Then it it Singles 3, it's Ryouma-kun turn

His opponents don't stand a chance; he's the son of a former pro

Horio-kun, that's not something you should brag about

Have you heard about him, Kiraku Yasuyuki?
His father is his coach, so he seems a worthy opponent

Game-set! Won by Seigaku Echizen! 6-1!


We did it, we made it!

It's Seigaku's victory

We made it into the Best 4

It's called the Semifinals, but it means we go to the National Tournament!

Sources
Ad blocker interference detected!
Wikia is a free-to-use site that makes money from advertising. We have a modified experience for viewers using ad blockers

Wikia is not accessible if you've made further modifications. Remove the custom ad blocker rule(s) and the page will load as expected.