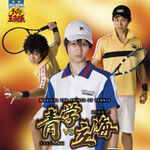 'Katsu Tame ni'  (勝つために Katsu tame ni), alternatively known as 'In Order to Win', is a song seen in:
AITSU no tamashii wa SAMURAI・SUPIRITTSU
Hakari shirenai hodo no Kanousei wo himeteiru
AITSU no ikizama wa SAMURAI・FAITA-
Tozasareta kokoro no oku ni Moetagiru honoo wo motsu


Dareka wo taosu dake no TENISU nara
Shouri no ato ni nani mo nokoranai
Ima koko de Mou ichido AITSU ni toi kakeyou
Omae ni totte no TENISU to wa nanda


"Yatsu wa Sanada to atatte okubeki desu.
Tatoe sono kekka ga dou de attemo....
Ore ga subete sekinin wo mochimasu. ...Buchou desu kara"

手塚:
アイツの魂は サムライ.スピリッツ
計り知れないほどの 可能性を秘めている
アイツの生き様は サムライ・ファイター
閉ざされた心の奥に 燃えたぎる炎を持つ


誰かを倒すだけのテニスなら
勝利の後に何も残らない
今ここで もう一度 アイツに問いかけよう
お前によってのテニスは何だ?


「奴は真田と当たっておくべきです。
たとえその結果がドウであっても…。
俺がすべて責任を持ちます。…部長ですから」


His soul is like a Samurai Spirit
He's hiding his immeasurable potential
His way of living is like a Samurai Fighter
He carries a burning flame inside his closed heart


His tennis is meant only to beat one person
So after he achieves victory nothing will be left for him
Right here and now, I'll ask him this question once more
What is your own tennis style?


"That guy is playing with Sanada right now.
How will this end…
I hold all responsibility… because I'm the captain!"

Source
Ad blocker interference detected!
Wikia is a free-to-use site that makes money from advertising. We have a modified experience for viewers using ad blockers

Wikia is not accessible if you've made further modifications. Remove the custom ad blocker rule(s) and the page will load as expected.