Kawahara Kazuma

Now

-

TeniMyu

Information
Japanese Name
川原一馬
Romaji
Kawahara Kazuma
Born In
Shizuoka Prefecture, Japan
Birthday
December 26, 1990
Age
26
Character
Aoi Kentarou
Generation
Rokkaku 1st
Portrayers
Previous
N/A
Next
Yoshida Daiki
Kazuma Kawahara (川原一馬 Kawahara Kazuma), born on December 26, 1990 in Shizuoka, Japan played the first Aoi Kentarou in TeniMyu as a part of Rokkaku 1st.
He's currently headed by Cube Inc., the same agency heading TeniMyu alumnus such as Kido Yuuya and Shirasu Jin.
In his earlier years Kawahara learned to tap dance and continues to do it as a hobby. Notably he performs a tap dance solo during the performance, Onnanoko to Chuu in Dream Live 4th.
TeniMyu
Theater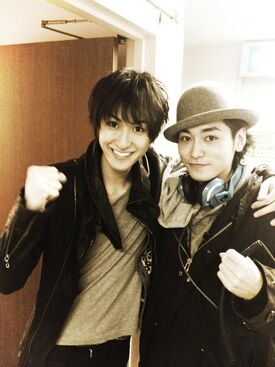 GODSPELL / ゴッドスペル(2005年9月22日 - 10月2日)
リトルステップファクトリー公演 Witch the Musical(2007年5月3日 - 4日)
リトルステップファクトリー公演 Witch the Musical(2007年7月15日 - 16日)
「MISSING BOYs~僕が僕であるために~」(2009年4月18日 - 5月5日) - アキヤマミツル 役
DHE@stageプロデュース公演「Love Musical」(2009年9月1日 - 13日) - 菊島剣太郎 役
DANCE ACT「MATERIAL」~波津彬子作 雨柳堂夢咄より~ (2010年2月22日 - 28日、3月3日 - 4日) - 由貴哉 役
Cucumber+三鷹市芸術センターpresents 土田英生セレクションvol.1「ー初恋」(2010年6月4日 - 13日、19日、25日 - 26日、7月2日- 3日) - 久野泰夫 役
cube neXt「押忍!!ふんどし部!」(2010年11月19日 - 21日)
cube neXt「押忍!!ふんどし部!」再演(2012年1月6日 - 15日)
cube neXt「押忍!!ふんどし部!」PLAY PARK 2012~日本短編舞台フェス~(2012年4月21日)
cube neXt「押忍!!ふんどし部!」再々演(2013年2月6日 - 11日)
明治座創業140周年記念「黒蜥蜴」(2012年6月1日 - 24日) - 平田(明智の部下)役
ミュージカル「走れメロス」(2012年9月8日 - 11日、21日 - 23日、28日 - 30日) - 坂口安吾 役
「合唱ブラボー!~ブラボー大作戦~」(2013年6月6日 - 16日) - 黒田春樹 役
Filmography
TV
Hanazakari no Kimitachi e 2011 (Fuji TV, 2011)
Ikemen Sobaya Tantei (NTV, 2009)
Kamen Rider Decade (TV Asahi, 2009)
Q.E.D. (NHK, 2009, Ep.3)
Battery (NHK, 2008)
Busu no Hitomi ni Koishiteru (Fuji TV, 2006, Ep.3)
Mother and Lover (Fuji TV, 2004, Ep.4)
Wonderful Life (Fuji TV) (Fuji TV, 2004)
Hojo Tokimune (NHK, 2001)
Virtual Girl (NTV, 2000, Ep.2)
Movies
Go! Boys' School Drama Club | Ike! Danshi Koko Engekibu (2011) - Seishiro Tamura
Websites
Ad blocker interference detected!
Wikia is a free-to-use site that makes money from advertising. We have a modified experience for viewers using ad blockers

Wikia is not accessible if you've made further modifications. Remove the custom ad blocker rule(s) and the page will load as expected.