Kawai Ryunosuke

Now

-

TeniMyu

Information
Japanese Name
河合龍之介 (かわいりゅうのすけ)
Romaji
Kawai Ryūnosuke
Born In
Tokyo, Japan
Birthday
May 23, 1983
Age
34
Character
Hiyoshi Wakashi
Generation
Hyotei A
Portrayers
Previous
N/A
Next
Hosogai Kei
Ryunosuke Kawai (河合龍之介 Kawai Ryūnosuke), born on May 23rd 1983 in Tokyo, Japan, is a Japanese actor. He's headed by Riche Management.
During his run in TeniMyu he played the role of Hiyoshi Wakashi in Hyotei A.
TeniMyu
Theater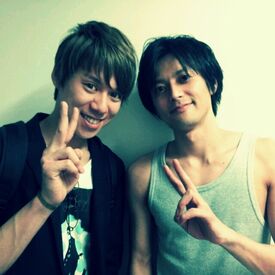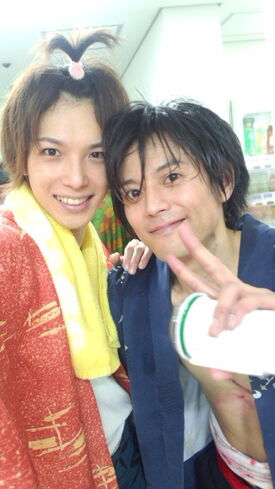 「スラブ・ボーイズ」 第14回読売演劇大賞作品賞・演出家賞 受賞作品
「研修医魂!(けんだま)」 脚本・演出:岡本貴也/於:ル・テアトル銀座、2007年1月16~21日 (溝口光太郎)
「アダルトな女たち」 企画・脚本・演出:江頭美智留/於:赤坂レッドシアター、2007年8月4日・ゲスト出演 (タクヤ)
「体感季節」 CORNFLAKES第3回公演 作・演出:堀江慶/於:東京芸術劇場 小ホール、2007年11月17日〜25日 (三島楠人)
「心霊探偵 八雲」 原作:神永学、演出:黒川竹春/於:青山円形劇場 2008年3月6日~13日(斉藤八雲)
「女信長」 原作:佐藤賢一 構成・演出:岡村俊一/於:東京 青山劇場、2009年6月5日~6月21日・大阪 シアター BRAVA!6月26日~6月28日(浅井長政) 
オーストラ・マコンドー1stオーストラ「三月の5日間」 原作:岡田利規 演出:倉本朋幸/於:東京 赤坂RED/THEATER、2010年1月8日~1月17日 (ミノベ)
スペーストラベラーズ Side:summer /於:下北沢 本多劇場 (西野)
「国家~偽伝、桓武と最澄とその時代~」 脚本・演出:松枝佳紀 /於:新国立劇場小劇場 2013年3月27日~31日(桓武天皇)
LIBERUSプロデュース 東京ギロティン倶楽部第一回公演「東京奇人博覧会」/於:新宿スペース・ゼロ 2013年4月17日~21日
Filmography
TV
Movies
Websites
Ad blocker interference detected!
Wikia is a free-to-use site that makes money from advertising. We have a modified experience for viewers using ad blockers

Wikia is not accessible if you've made further modifications. Remove the custom ad blocker rule(s) and the page will load as expected.