Ryo Kawamoto (川本稜 Kawamoto Ryō), born on September 11, 1993 in the Saitama Prefecture of Japan, is a Japanese actor. He's a part of the acting troupe, NAKED BOYZ (affiliated with TeniMyu alumni Takahashi Yuuta) and is headed by Atelier Umi.
He played the role of Kato Kachiro as a part of the third and fourth-generation Seigaku cast. After Mori Yuya's departure from the productions after Advancement Match Rokkaku feat. Hyotei Gakuen, Kawamoto replaced him and maintained the role until The Imperial Presence Hyotei Gakuen feat. Higa Chuu, which was then passed onto Ito Tsubasa.
TeniMyu
Theater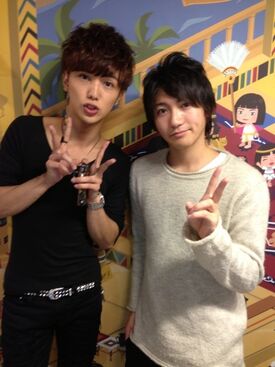 Best Wishes
ロイヤルホ☆ト(2010年3月) - 真 役
神☆ヴォイス 〜Go!Go!Dreamers!!〜(2012年3月)
フラボーイ 〜いわき男子高校演劇部奮闘記〜(2012年5月)
誠 〜とびだせ新撰組〜(2012年10月) - 沖田総司 役
Filmography
TV
おぎやはぎnoだっぴんぐ(2005年、テレビ静岡)
のぞき屋(2007年4月 - 7月、テレビ東京) ケン(少年時代)役
ここはグリーン・ウッド〜青春男子寮日誌〜(2008年7月 - 9月、TOKYO-MXほか)渡辺由樹 役
Websites
Ad blocker interference detected!
Wikia is a free-to-use site that makes money from advertising. We have a modified experience for viewers using ad blockers

Wikia is not accessible if you've made further modifications. Remove the custom ad blocker rule(s) and the page will load as expected.