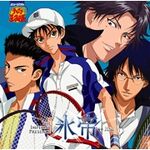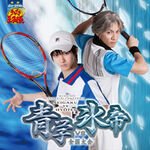 'Kazu to Gekiryuu' (風と激流 Kaze to gekiryū) is performed in:
Hamatta na Ore no jucchuu

Omaetachi wa sude ni te no uchi da

Koudou no yosoku ga tsuku Hyaku paasento

Deeta tenisu ga omaetachi wo horobosu


Shikujitta na Mou oshimai da

Jikyuusen ni yowai omaetachi


Sono ase no ryou wo miro yo Jinjou ja nai

Kishikaisei no chansu wa oretachi ni


Omae (anta) to ore to wo tsunageru

Daburusu to iu Aratana kizuna

Makiagaru ichijin no kaze

Daremo sekitomerarenai gekiryuu


Omaetachi wo fukitobasu kaze to gekiryuu

Mou Dare ni mo tomerarenai

Saa Kakugo wa ii ka!

はまったな 俺の術中

お前たちはすでに手の内だ

行動の予測が付く 100%

データテニスがお前たちを滅ぼす


しくじったな もうおしまいだ

持久戦に弱いお前たち


その汗の量を見ろよ 尋常じゃない

起死回生のチャンスは俺たちに


お前(あんた)と俺とをつなげる

ダブルスと言う 新たな絆

巻き上がる一陣の風

誰もせき止められない激流


お前たちを吹き飛ばす風と激流

もう 誰にも止められない

さあ 覚悟は良いか!

Sources
Ad blocker interference detected!
Wikia is a free-to-use site that makes money from advertising. We have a modified experience for viewers using ad blockers

Wikia is not accessible if you've made further modifications. Remove the custom ad blocker rule(s) and the page will load as expected.