Kido Yuuya

Now

-

TeniMyu

Information
Japanese Name
木戸邑弥 (きど ゆうや)
Romaji
Kido Yūya
Born In
Nara, Japan
Birthday
November 9, 1992
Age
24
Character
Tooyama Kintarou
Generation
Shitenhoji A
Portrayers
Previous
N/A
Next
Kawaharada Takuya
Yuuya Kido (木戸邑弥 Kido Yūya) is a Japanese actor born on November 9th, 1992 in Nara, Japan. He's headed by Cube Inc.
In TeniMyu he plays the role of Tooyama Kintarou in Shitenhouji A's cast, the first-generation Shitenhoji cast of TeniMyu. He appears in every Shitenhoji-related appearance up until the season's final performance, Dream Live 7th.
After his graduation in Dream Live 7th, he's taken various theater roles, notably as Hitsugaya Toshirou in Rock Musical Bleach.
TeniMyu
Theater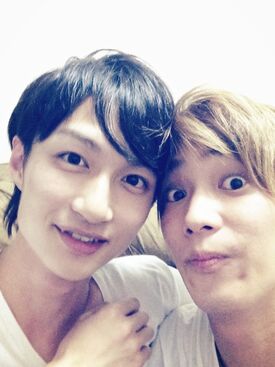 cube neXt「押忍!!ふんどし部!」
BLEACH連載10周年記念公演「ROCK MUSICAL BLEACH」 (2011年7月1日 - 8月30日) - 日番谷冬獅郎 役
Cube presents「有毒少年」(2011年11月15日 - 30日)
東京公演 (2011年11月15日 - 11月26日)
大阪公演 (2011年11月29日 - 11月30日)
「タンブリング」vol.3
東京公演 (2012年8月8日 - 8月12日)
大阪公演 (2012年8月17日 - 8月19日)
cube neXt「続!!押忍!!ふんどし部!」
Filmography
TV
チョコミミ(2007年、テレビ東京) - 安藤竜之介(アンドリュー) 役
ごくせん 第3シリーズ(2008年、日本テレビ) - 大隈邑弥 役
ごくせん 卒業スペシャル'09(2009年、日本テレビ) - 大隈邑弥 役
イケ麺そば屋探偵〜いいんだぜ!〜 エピソード7(2009年、日本テレビ) - セイジ 役
イケ麺新そば屋探偵 第1 - 3、6、8、11話(2009年、日本テレビ) - ユウヤ (イケ麺No.002) 役
Movies
Websites
Ad blocker interference detected!
Wikia is a free-to-use site that makes money from advertising. We have a modified experience for viewers using ad blockers

Wikia is not accessible if you've made further modifications. Remove the custom ad blocker rule(s) and the page will load as expected.