Kitadai Takashi

Now

-

TeniMyu

Information
Japanese Name
北代 高士(きただい たかし)
Romaji
Kitadai Takashi
Born In
Osaka, Japan
Birthday
September 15, 1986
Age
30
Character
Tachibana Kippei
Generation
Fudomine 1st
Portrayers
Previous
YOH
Next
Ueda Yusuke
Takashi Kitadai (北代高士 Kitadai Takashi), born on September 15, 1986, is a Japanese actor headed by Newgate Production.
In TeniMyu he played as an alternate for YOH as Tachibana Kippei, but is considered a part of the first-generation Fudomine cast. The production was Takashi's first experience with professional theater.
As very close friends with TeniMyu affiliate Isogai Ryuko, they've appeared in various events and theatrical performances together.
TeniMyu
Theater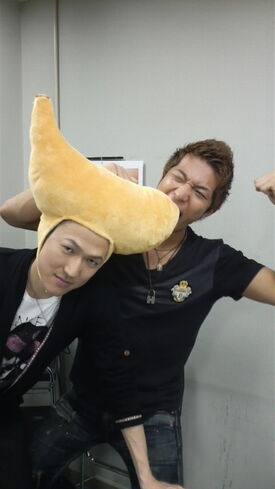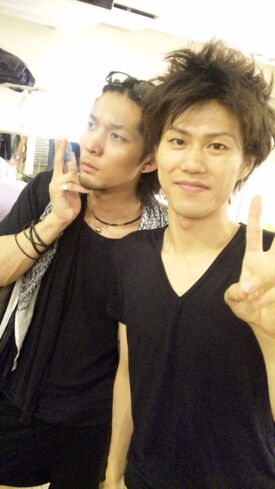 「流れる雲よ 〜DJから特攻隊へ愛を込めて〜」準主演 中原 正人役
「青面獣楊志」 (2010年6月)劉唐 役
「美童浪漫大活劇『八犬伝』」 (2010年7月)赤岩 一角 役
「コカンセツ!」 (2010年8月)浜野 役
「人生はショータイム!」 (2010年9月30日-10月7日、全労済ホール/スペース・ゼロ)
「銀河英雄伝説」 (2011年1月)シュトライト 役
「花咲ける青少年」 (2011年2月)エディ 役
「HYBRID PROJECT vol.4.5『FILM STAR』」(2011年9月) 星役 <中目黒キンケロシアター>
「D'TOT 4Th Act『FRAG~新選組Bloodsucker Behind』」 (2012年5月)原田佐之助 役
「D'TOT 5Th Act『FROG~新選組寄留記』」 (2013年2月)原田佐之助 役
Filmography
TV
『イケメンデルの法則』(2009年11月12日)
『実話!デキマックス』(2010年4月)
『サラリーマンNEO 〜Season6〜』(2011年6月7日)
『戦国鍋TV 〜なんとなく歴史が学べる映像〜』(2011年)
『ウルトラゾーン』(2011年)
TV Dramas
交渉人〜THE NEGOTIATOR〜第2シリーズ 第1話 (2009年10月22日、テレビ朝日)
嬢王 Virgin 第4話 (2009年10月23日、テレビ東京) - 陸 役
タンブリング 第1話 (2010年4月17日、TBS) - 不良 役
龍馬伝 第18話 (2010年5月2日、NHK) - 井戸礼次郎 役
パーフェクト・リポート 第8話(2010年12月5日、フジテレビ) - 橘弘志 役
江〜姫たちの戦国〜 第16話 (2011年、NHK)
僕とスターの99日(2011年、フジテレビ) - 水野 役
ウルトラゾーン 第8話「不良怪獣ゼットン」(2011年、tvk) - 不良1 役
コドモ警察 第7話 (2012年5月31日、毎日放送)
戦国★男士(2011年10月 - 2012年3月、テレビ神奈川) - 本多忠勝 役
孤独のグルメ Season2 最終話(2012年12月26日、テレビ東京) - カウンター客1 役
Movies
『大阪ハムレット』(2009年1月)リョウ役
『20世紀少年〜最終章〜』
『ローカルボーイズ!』(2010年3月19,20日)主演
『ソフトボーイ』(2010年6月)本間役
『ハンドメイドエンジェル』(2010年7月)石塚隆 役
『ガチバンMAX』(2010年)山崎 役
『犬の首輪とコロッケと』(2011年)タカシ役
『センチメンタルヤスコ』(2012年4月21日)三島刑事 役
『永遠の0』(2013年公開予定)笠井 役
『図書館戦争』(2013年公開予定)
Websites
Ad blocker interference detected!
Wikia is a free-to-use site that makes money from advertising. We have a modified experience for viewers using ad blockers

Wikia is not accessible if you've made further modifications. Remove the custom ad blocker rule(s) and the page will load as expected.