Yutaka Kobayashi (小林豊 Kobayashi Yutaka), born on March 19, 1989, is a Japanese actor from the Shiga Prefecture of Japan. He's currently headed by Fortune Entertainment, the same agency headed TeniMyu alumni, Hamao Kyosuke.
Prior to his participation in the musical, Musical Prince of Tennis, he played tennis at his school.
Kobayashi started his entertainment career in December of 2009, since then participating in various stage musicals and performances, notably BOYS AND MEN and 男子ing (literally translates to 'Man-ing').
With agency affiliate, Hamao Kyosuke and past TeniMyu alumnus Baba Ryoma, Naitou Taiki, Takiguchi Yukihiro, Hirose Yuusuke, Mitsuya Ryo, and Watanabe Daisuke, he played a role in the fourth Takumi-kun movie, Pure, in 2010 as Michio Yoshizawa (吉沢道雄 Yoshizawa Michio). The role was his movie debut.
In TeniMyu he played the role of Mizuki Hajime as a part of St. Rudolph 2nd, the second-generation St. Rudolph cast which is the first cast for the second season of the production.
TeniMyu
Theater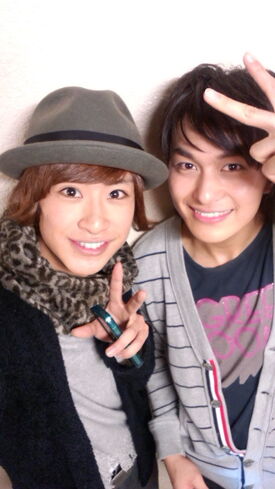 ストレートドライブ!(2010年11月 - 2011年2月)松本大樹 役ほか
ポチッとな。-Switching On Summer-(2011年8月)小関安彦 役
ホワイト★タイツ(2011年8月 - 2012年5月)野光悟史 役
不思議な街の王子様(2012年2月)寿木栄 役
男子ing!(2012年3月 - 4月)加藤 役
ストレートドライブR(2012年6月)
ホワイト★タイツII(2012年11月 - 2013年2月)野光悟史 役
東京奇人博覧会(2013年4月)ゲスト出演
Filmography
TV
ドリームハイ 第10話(2011年3月、DATVほか)ケン 役
明日の光をつかめ -2013 夏-(2013年7月、東海テレビ)不良 役
仮面ライダー鎧武(2013年10月 - 、テレビ朝日)駆紋戒斗 / 仮面ライダーバロン(声)役
Movies
タクミくんシリーズ4 Pure〜ピュア〜(2010年)吉沢道雄 役
平成仮面ライダーシリーズ(2013年 - 、東映)
仮面ライダー×仮面ライダー 鎧武&ウィザード MOVIE大戦2014(仮)(2013年12月公開予定)駆紋戒斗 / 仮面ライダーバロン(声) 役
Websites
Ad blocker interference detected!
Wikia is a free-to-use site that makes money from advertising. We have a modified experience for viewers using ad blockers

Wikia is not accessible if you've made further modifications. Remove the custom ad blocker rule(s) and the page will load as expected.