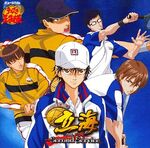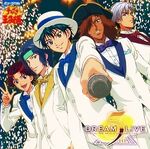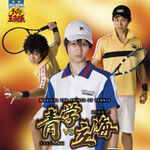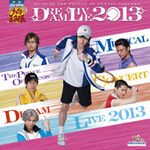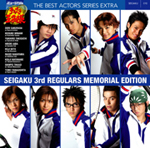 'Koko kara ga...Oretachi' (ここからが…俺達 Koko kara ga… oretachi) is seen in:
Oitsumerareta Mou ato wa nai

Dakara moeruze Yatte yarou jyanai ka

Koko kara ga... Oretachi no honryou hakki da


Koko kara saki no Michi wa mienai

Naraba shinro wa Mizukara kiri hirakou

Koko kara ga... Oretachi no saikou no miseba


Shoubu to wa yosoku no tsukanai mirai

Egao ni naru ka namida ni naru ka dare ni mo wakaranai

Demo kachi make no yukue wa

Kanarazu kaeru koto ga dekiru

Ima wa wo kui shibareba Girigiri Girigiri

Kitto Shouri waga te ni


Kabe ni buchi atattara Sono kabe wo norikoeyou

Norikoerarenai kabe nara Tataki kowaseba iize

Reisei ni kangaereba Kanarazu michi ga aru hazu

Michi ga mitsukaranai no nara Michi naki michi wo yukuze


Minna de chikara wo awase Kono kiki ni tachi mukaou

Tsurai toki koso wasureruna Egao wa buki ni naru

Tsuchikatte kita jisseki Soko ni kotae wo midase

Daijoubu sa oretachi nara Imamade mo Kore kara mo Mutekida


Tooku hanaretemo Ore no kokoro wa omaetachi no moto ni aru

Soko ni inakutemo Ore no tamashii wa omaetachi to shiai ni idomu

Katte! Hirumuna! Mae ni mae ni susume!

追いつめられた もう後はない

だから燃えるぜ やってやろうじゃないか

ここからが…俺達の本領発揮だ


ここから先の 道は見えない

ならば進路は 自ら切り開こう

ここからが…俺達の最高の見せ場


勝負とは予測の付かない未来

笑顔になるか涙になるか誰にも分からない

でも勝ち負けの行方は 必ず変えることが出来る

今 歯を食いしばれば ギリギリ ギリギリ

きっと 勝利は我が手に


壁にぶち当たったら その壁を乗り越えよう

乗り越えられない壁なら 叩き壊せば良いぜ

冷静に考えれば 必ず道があるはず

道が見つからないのなら 道なき道を行くぜ


みんなで力を合わせ この危機に立ち向かおう

つらい時こそ忘れるな 笑顔は武器になる

培ってきた実績 そこに答えを見出せ

大丈夫さ俺達なら 今までも これからも 無敵だ


遠く離れても 俺の心はお前達の許にある

そこにいなくても 俺の魂はお前達と試合に挑む

勝て!怯むな!前に前に進め


ここからが…俺達の本領発揮だ

Sources
Ad blocker interference detected!
Wikia is a free-to-use site that makes money from advertising. We have a modified experience for viewers using ad blockers

Wikia is not accessible if you've made further modifications. Remove the custom ad blocker rule(s) and the page will load as expected.