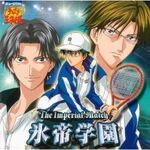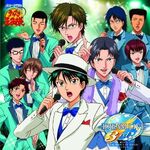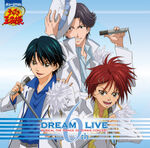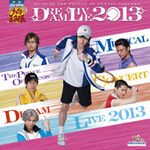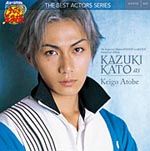 'Koori no Emperor' (氷のエンペラー), also known as 'Kori no Emperor'/'Kouri no Emperor', is a popular Hyotei song. It's performed in numerous Dream Lives and musicals.
In 'Koori no Emperor', some lines in the verses are shared by various Hyotei cast members while the rest are sung by portrayers of Atobe Keigo. Kato Kazuki covers the song in the second Best Actors Series CD.
It's performed in:
Oretachi ni sawaruna yo yakedo suruze

Koori no honoo tsumetai shakunetsu

Oretachi ni chikayoruna iki no ne tomeruze

Koori no yaiba kihaku no ichigeki


Hizamazuke agamero tatematsure

Kyousha wa jakusha wo shihai dekirunoda

Hamukauna hirefuse obietero

Shousha wa haisha wo i no mama ni dekiru

Sou oretachi COURT ni kunrinsuru

Hyoutei

Hyoutei koori no EMPEROR

俺達に 触るなよ 火傷をするぜ
氷の炎 冷たい杓熱


俺達に 近寄るな 息の根止めるぜ 


氷の刃 気迫の一撃


跪け 崇めろ 奉れ

強者は弱者を支配できるのだ

刃向かうな ひれ伏せ 怯えてろ

勝者は敗者を意のままに出来る

そう 俺達 コートに君臨する

氷帝

氷帝 氷のエンぺラー

Source
Ad blocker interference detected!
Wikia is a free-to-use site that makes money from advertising. We have a modified experience for viewers using ad blockers

Wikia is not accessible if you've made further modifications. Remove the custom ad blocker rule(s) and the page will load as expected.