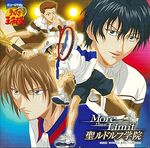 'Kore ga Totaikai da!' (これが都大会だ! Korega-to taikaida!), also known as 'This is the District Tournament!' is a song that debuted in More Than Limit St. Rudolph Gakuen.
It's sung by the Ichinen Trio (consisting of Horio Satoshi, Kato Kachiro, and Mizuno Katsuo).


Horio

Nori-nori da ze Ore Horio

Kachirou

Boku wa Kachirou

Katsuo

Katsuo to iimasu

Ichinen Trio

Seishun Gakuen Chuutoubu ichinen da Yeey!

Onajimi no toujou Yeey! Yeey! Yey!


Horio

Saa hajimatta yo Totaikai

Gekisenku wo Kachinokori

Hayaku mo BEST 8 ga desorotta


Kachirou

Sasuga ni tsuyoi yo Hyoutei Gakuen

Katsuo

DARK HORSE no Fudoumine

Kachirou

Houjou - Ginka wa juntou ni kachinokori

Katsuo

Yamabuki - Minowadai mo yappari'tte kanji

Ichinen Trio

Soshite warera ga Seishun Gakuen

Sei Rudolph Gakuin to taiketsu da


Kachirou

(serifu) Sore ni shite mo saa Tanoshimi da yo ne Waku-waku suru yo

Katsuo

(serifu) Demo daijoubu ka na Kyouteki nan'desho? Sei Rudolph Gakuin

Horio

(serifu) Shinpai suruna yo Uchi no REGULARS wa kanpeki sa

Kachirou

(serifu) Demo man ga ichi'tte koto mo arun'ja nai no?

Horio

(serifu) Ano ne Uchi no REGULARS ga maketeru toko Souzou dekiru?

K & K

(serifu) Souzou dekinaai!


Ichinen Trio

Seishun Gakuen Zettai yuushou da ze Yeey!

Seigaku banzai Yeey! Yeey! Yey!

ノリノリだぜ 俺 堀尾

僕はカチロー

カツオと言います

青春学園 中寺部一年だ イエーイ!

お馴染みの登場 イエーイ!


さあ始まったよ 都大会

激戦区を 勝ち残り

はやくもベスト8が出揃った


さすがに強いよ 氷帝学園

ダークホースの不動峰

北条.銀草は順当に勝ちのこり

山吹.箕輪台もやっぱりっ手感じ

そして我らが青春学園

聖ルドルフ学院と対決だ


それにしてもさあ 楽しみだよね ワクワクするよ

でも大丈夫かな 強敵何でしょ?聖ルドルフ学院

心配するなよ うちのレギュラーは完璧さ

でも万が一ってこともあるんじゃないの?

あのね うちのレギュラーが負けてるトコ 創造できる?

創造できなーい!


青春学園 絶対優勝だぜ イエーイ!

青学バンザイ イエーイ!イエーイ!イエーイ!

Get ready, I'm Horio

I'm Kachirou

They call me Katsuo

We are the first year club members of Seishun Gakuen

YEEY!

This is our usual entrance on stage

YEEY!


So, it has begun! We remain undefeated in the city tournament

Soon the BEST 8 will come out

Hyoutei Gakuen is as strong as expected

DARK HORSE Fudomine

Houjou and Ginka are undefeated as usual

Yamabuki and Minowadai are also still around

And our Seishun Gakuen will confront St. Rudolph


By the way, this is really amazing, right? I'm so nervous!

But will they be alright? I mean our opponent, it's St. Rudolph Gakuen!

Don't worry, our regulars are perfect

But there is a chance they'll lose, right?

Hold on a moment, you think anyone could defeat our regulars?

There's no way that'll happen!


Seishun Gakuen will certainly win

YEEY!

Seigaku Hurray

YEEY! YEEY! YEEY!

Sources
Ad blocker interference detected!
Wikia is a free-to-use site that makes money from advertising. We have a modified experience for viewers using ad blockers

Wikia is not accessible if you've made further modifications. Remove the custom ad blocker rule(s) and the page will load as expected.