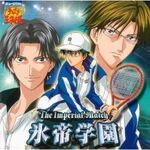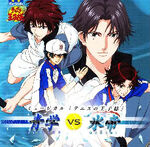 'Kounai Ranking Sen ~ Versus' (校内ランキング戦~ヴァーサス Kōnai rankingu-sen ~ vu~āsasu) is a song performed by the Ichinen Trio (Horio/Katsuo/Kachiro) in:
HELLO GOOD DAY HOW ARE YOU?

Ore Horio

Kachiro

Katsuo da ze


Iyo iyo kyou wa Kounai RANKING Sen

Kantou Taikai no REGULAR kettei

Atarashii REGULAR wo kimerutte koto


ABCD kaku BLOCK de kisoiau

Sono joui ni meini nokora nakattara

Atarashii REGULAR ni nare nain dane


Kibishii ne demo sore ga Seigaku tsuyosa no himitsu

Tatakau koto de shinogi wo kezuri wazamigaku


Doki doki shichau Kounai RANKING Sen

Ninen to sannen wa zenin sanka da

Ichinen wa Ryoma-kun dake shutsu jousa


Bokutachi mo mou sugu sa RANKING Sen ni shutsu jou

Itsuka kanarazu REGULAR iri wo shitemiseru

HELLO GOOD DAY HOW ARE YOU
俺 堀尾 カチロー カツオだぜい


いよいよ今日は 校内ランキング戦
関東大会の レギュラー 決定
新しいレギュラーを決めるって事


ABCD 各ブロックで競い合う
その上位二名に 残らなかったら
新しいレギュラーになれないだね


きびしいねでもそれが青学強さの秘密
戦うことで しのぎを削り 技磨く


ドキドキしちゃう 校内ランキング戦
二年と三年は 全員参加だ
一年はリョーマ君だけ出場さ

僕達も もうすぐさ ランキング戦に出場
いつか必ず レギュラー入りを して見せる

Source
Ad blocker interference detected!
Wikia is a free-to-use site that makes money from advertising. We have a modified experience for viewers using ad blockers

Wikia is not accessible if you've made further modifications. Remove the custom ad blocker rule(s) and the page will load as expected.