Hidetoshi Kubota (久保田秀敏 Kubota Hidetoshi), born on January 12, 1987, is a Japanese actor from the Fukuoka Prefecture of Japan. He's headed by Avex Management.
Before working as an actor, Kubota worked as a hairdresser after graduating from a technical college in Fukuoka.
In TeniMyu Kubota plays the character Niou Masaharu as a part of Rikkai 2nd, the third Rikkai cast overall.
TeniMyu
Theater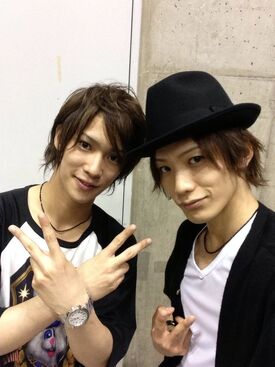 『ライジングフラッグ』(2011年7月22日 - 24日、池袋シアターKASSAI)
東京俳優市場 2011年冬 第1話『きよしこの猫』 - 猫 役 (2011年12月7日 - 11日、笹塚ファクトリー)
舞台版『心霊探偵八雲 いつわりの樹』(2013年8月、青山円形劇場)- 主演
歳末明治座 る・フェア 年末だよ!みんな集合!!(2013年12月21日 - 24日、明治座) - 徳川家光 役
Filmography
TV
JIN-仁-(2009年10月 - 12月、TBS)
Tumbling [タンブリング](2010年4月 - 6月、TBS)
超絶☆絶叫ランド(2013年7月 - 、CBC)
Movies
ゲバルト(2013年11月、オールインエンタテインメント)
Websites
Ad blocker interference detected!
Wikia is a free-to-use site that makes money from advertising. We have a modified experience for viewers using ad blockers

Wikia is not accessible if you've made further modifications. Remove the custom ad blocker rule(s) and the page will load as expected.