Kousuke Kujirai (鯨井 康介 Kujirai Kōsuke) (born July 20, 1987) is a Japanese actor and singer headed by Production Ogi.
He is known most notably for his role as Jenath Dira in the Get Ride! Amdriver anime series and the live film adaptation, and as Panther in Eyeshield 21.
In TeniMyu he plays the second Kaidoh Kaoru.
Kujirai returned to play Kaidoh for the slated August 2006 Advancement Match Rokkaku musical. Actor Takahiro Tasaki, who was originally slated to play Kaidoh in the Rokkaku musical, left the production to pursue other opportunities, therefore Kujirai was brought back as Tasaki's substitute.
Additionally, he appears in the second season of BuriMyu, which is the musical adaption of Bleach. He plays the role of Renji Abarai, a role previously held by first-generation cast member Moriyama Eiji.
TeniMyu
Theater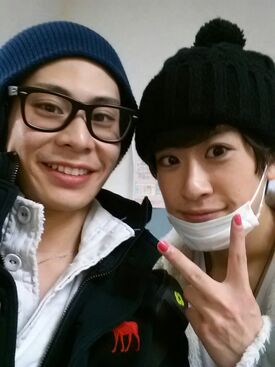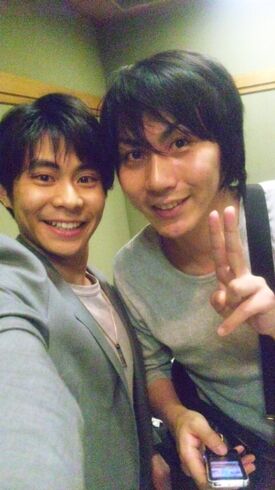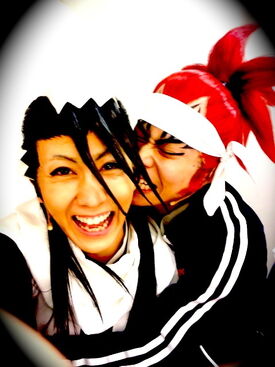 pnish vol.7『トレジャーボックス』(2006年) - 日比野修一 役
ヨイショ!の神様(2006年、新橋演舞場) - 石森健吉 役
殿のちょんまげを切る女(2007年) - 富岡一之助 役
櫻の園(2007年/2009年、青山円形劇場) - 島田祐介 役
ミュージカル DEAR BOYS(2007年・2008年、全労済ホールスペース・ゼロ/2011年、シアター1010) - 五十嵐修 役
わらしべ夫婦双六旅(2008年2月、新橋演舞場) - 若三郎 役
帰ってきた浅草パラダイス(2009年2月、新橋演舞場) - 松川勝 役
女信長(2009年6月、青山劇場/シアターBRAVA!) - 簗田政綱 役
マグダラなマリア 〜マリアさんは二度くらい死ぬ! オリエンタルサンシャイン急行殺人事件〜(2009年11月、サンシャイン劇場/新神戸オリエンタル劇場) - 黒海なぎさ 役
困ったメン 〜絶望のジングルベルMIX〜(2009年12月、全労済ホールスペース・ゼロ) - セコ 役
LOVE GUN(2010年6月、赤坂レッドシアター) - 根本巡査 役
ROCK'N JAM MUSICAL III(2010年6月 - 7月、紀伊國屋ホール) - 元 役 ※ダブルキャスト
姫子と7人のマモル(2010年7月、全労済ホールスペース・ゼロ) - マモル 役
華鬼(2011年3月、博品館劇場) - 貢国一 役
ROCK MUSICAL BLEACH(2011年7月 - 8月、ステラボール) - 阿散井恋次 役
少年探偵団(2011年10月、青山円形劇場)- 井上一郎 役
ALTARBOYZ [ORANGE](2012年1月 - 2月、シアター1010)- MARK 役
ゴジラ(2012年5月、SPACE107) - ゴジラ 役
体感季節(2012年5月、キンケロ・シアター)
イケメン金融工学(2012年7月 - 8月、SPACE107/ABCホール)
GO, JET! GO! GO! 〜I LOVE YOUが言えなくて〜(2012年10月</2013年5月>、SPACE107)
マグダラなマリア 〜ワインとタンゴと男と女とワイン〜(2012年11月 - 12月、サンシャイン劇場/新神戸オリエンタル劇場) - 黒海なぎさ 役
樅ノ木は残った(2013年1月、新歌舞伎座)
ママと僕たち(2013年6月、AiiA Theater Tokyo)
Filmography
TV
時空警察ヴェッカーシグナ(2007年7月 - 9月、テレビ朝日) - 覚良亮二 / 覚(声) 役
白虎隊(2007年1月、テレビ朝日) - 安達藤三郎 役
トミカヒーロー レスキューフォース 第4話・46話(2008年4月・2009年3月、テレビ東京) - 竜司 役
ごくせん 第3シリーズ(2008年4月 - 6月、日本テレビ) - 大平康介 役
ごくせん 卒業スペシャル'09 ヤンクミ最後の卒業式!(2009年3月)
新春ワイド時代劇 寧々〜おんな太閤記(2009年1月、テレビ東京) - 松平忠輝 役
侍戦隊シンケンジャー 第35話(2009年10月、テレビ朝日) - 松川新太郎 役
Q10(2010年10月 - 12月、日本テレビ) - 宮沢三郎 役
メルトダウン 〜福島第一原発 あのとき何が〜(2011年12月、NHK) - 職員 役
未解決事件 file.02 オウム真理教(2012年5月、NHK)
Movies
実写映画 テニスの王子様(2006年) - 海堂薫 役
荒くれKNIGHT(2007年) - 白田 役
ごくせん THE MOVIE(2009年) - 大平康介 役
喧嘩番長 劇場版〜一年戦争(2011年) - 八神真 役
Voice Acting
AM Driver (as Jenath Dira)
Eyeshield 21 (as Panther)
Websites