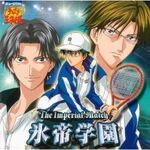 'Kumiawase Chuusen Kai' (組み合わせ抽選会 Kumiawase chūsen-kai) is a song performed by the Ichinen Trio (Horio/Kato/Katsuo).
It's seen in:
Iyo iyo kyou wa Kumiawase Chuusen Kai
Kantou Taikai no TENNIS TOURNAMENT


Doko to taisensuru ka kimerutte koto

いよいよ今日は 組み合わせ抽選会
関東大会の テニストーナメント


どこと対戦するか決めるって事

Source
Ad blocker interference detected!
Wikia is a free-to-use site that makes money from advertising. We have a modified experience for viewers using ad blockers

Wikia is not accessible if you've made further modifications. Remove the custom ad blocker rule(s) and the page will load as expected.