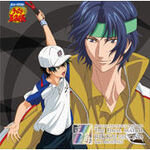 'Kurayami' (暗闇 Kurayami), also known as 'Darkness', is seen in:
"Kono koe sura, mō kimi ni wa kikoete nai darou kedo ne"


"Nande aitsu asoko made……"
"Mō nani mo mienaku kikoenaku kanjite naindaro……"
"Demo, mada tsudzukeyou to"


"Koshimae……"


Marude kurayami Nani mo mienai
Ankoku no sekai ni tadayoinagasarete yuku


"Shibutoi ja ne ~ no, Ryōma"
"Ma…… madamada……"


"Nande……? Mō gokan wa ushinawarete iru hazu na no ni……. Dare mo ga mō tenisu o suru
no mo iya ni naru kono jōtai de, kono bōya wa…… Yahari kimi wa kikensugiru"


Ore wa dare? Nan no tame?
Aruiteru? Mokuteki wa?
Ore wa dare? Naze hitori?
Kono bōru wa nanika o kowasu tame na no ka?


Makeru…? Maketakunai!
Dōshite kon'na ni kurushī ndarou?
Tenizutte kon'na ni tsurakatta kke?
Iya kore wa tenisu
Tenisu tte… tenisu tte…


"Oi, ryōma, tenisu tanoshī ka?"


Un tenisu tte tanoshī
Dakara ima made tsudzukete kita
Tenisu o kirai ni nareru wake nai
Datte datte datte
Tenisutte


"Tanoshījan!"

「この声すら、もう君には聴こえてないだろうけどね」

「何でアイツあそこまで……」
「もう何も見えなく聴こえなく感じてないんだろ……」
「でも、まだ続けようと」


「コシマエ……」


まるで暗闇 何も見えない
暗黒の世界に漂い流されてゆく


「しぶといじゃね~の、リョーマ」
「ま……まだまだ……」


「何で……?もう五感は失われているハズなのに……。誰もがもうテニスをするのも嫌になるこの状態で、このボウ
ヤは……やはりキミは危険すぎる」

俺は誰? 何のため?
歩いてる? 目的は?
俺は誰? なぜ一人?
このボールは何かを壊すためなのか?


負ける…? 負けたくない!
どうしてこんなに苦しいんだろう?
テニズッてこんなに辛かったっけ?
いや これはテニス
テニスって… テニスって…


「おい、リョーマ、テニス楽しいか?」


うん テニスって楽しい
だから今まで続けてきた
テニスを嫌いになれる訳ない
だって だって だって
テニスって


「楽しいじゃん!」

Except for my voice, you can't hear anything anymore, right?


Why did he go that far?
You can't see or hear anything anymore, right?
But still you keep going…


I'm surrounded by darkness, I can't see anything.
I'm being carried into a world of darkness.


"You are really persistent, Ryoma"
"You… you still have lots more to work on…"


"Why…?" You've lost all five senses by now… nobody would want to play on under
these circumstances, but this boy… you are too reckless."


Who am I? For what reason?
Walking? What's the goal?
Who am I? Why alone?
Is this BALL meant to destroy something?


Losing…? I don't want to lose!
Why is it so painful?
Why is TENNIS so heartbreaking?
No, this is TENNIS.
TENNIS…, it's TENNIS...


"Hey Ryoma, do you enjoy playing tennis?"


Yes, I enjoy playing TENNIS.
That's why I've played it until now.
Why would I ever dislike TENNIS?
Because, because, because
This is TENNIS


"It's fun!"

Source
Ad blocker interference detected!
Wikia is a free-to-use site that makes money from advertising. We have a modified experience for viewers using ad blockers

Wikia is not accessible if you've made further modifications. Remove the custom ad blocker rule(s) and the page will load as expected.