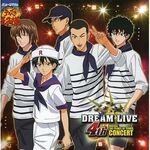 'Kyou Made...Soshite Ashita kara' (今日まで…そしてあしたから Kyō made… soshite ashita kara), also known as 'Until Today...and From Tomorrow On" is performed in:
Doushita Echizen Utsumuita Sono ashimoto ni nani ga mieru

Kao wo agero Echizen Me no mae ni Tachitsukusu teki wo miro

GIRIGIRI nara Echizen Omoide ga sodateta Ore no POWER- wo okurou

Makeruna yo Echizen Sesuji nobashi Onore no chikara wo kanjirun da


Sono me da Echizen Massugu ni Omae no emono wo misuerun da

Toushi moyase Echizen GUTS daze Taosenai teki wa nai

Genkai nara Echizen Taegatai itami wo Omae no POWER- ni kaero

Daijoubu da Echizen Sono shiren wa Norikoeru tame ni ataerareta


Oretachi to tomo ni kizukiageta Eikou no shouri no rireki

Hitotsu hitotsu ga tsunagari Kyou made no michi ga dekiru

Tachidomaru na Maemuki ni ayumi wo susumero

Donna ni magarikunette mo Shinnen no michi wa kanarazu ashita ni nobiru

手塚: どうした越前 うつむいた その足元に何が見える

大石: 顔を上げろ越前 目の前に 立ち尽くす敵を見ろ

菊丸: ギリギリなら越前 思い出が育てた 俺のパワーを送ろう

河村: まけるなよ越前 背筋伸ばし 己の力を感じるんだ


桃城: その目だ越前 まっすぐに お前に獲物を見据えるんだ

海堂: 闘志燃やせ越前 ガッツだぜ 倒せない敵は無い

乾: 限界なら越前 耐え難い痛みを お前のパワーに変えろ

不二: 大丈夫だ越前 その試練は 乗り越えるために与えられた


青学: 俺達と共に築き上げた 栄光の勝利の履歴

一つ一つがつながり 今日までの道が出来る

立ち止まるな 前向きに歩みを進めろ

どんなに曲がりくねっても 信念の道は必ず明日に伸びる 

Why is it Echizen that you cast down you eyes?

What did you see?

Raise you head Echizen Look at your opponent in front of you!

If you're at the edge Echizen of recalling your memories

I will send you my power

Don't lose Echizen Hold your head High

Feel you power


Show me that eyes Echizen

Focus on your game ahead

Let your fighting spirit burn Echizen You have guts that can't be equalled by anyone

If you're at your limit Echizen

Change the unbearable pain into power

It will be okay Echizen That trial was given to you to improve


Together we established our reputation

The proof of our glorious victories

One by one our relationships

Made the road until now

We won't stop We'll continue to walk with our eyes fixed on the future

No matter how many hardships we'll face

We'll always believe in tomorrow 

Source
Ad blocker interference detected!
Wikia is a free-to-use site that makes money from advertising. We have a modified experience for viewers using ad blockers

Wikia is not accessible if you've made further modifications. Remove the custom ad blocker rule(s) and the page will load as expected.