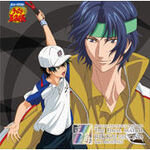 'Level Up' (レベルアップ Reberuappu) is a song seen in:
"Echizen omae wa tenisu no oshi-ko.
Sore yue Jōtatsu ga hayasugiru…"
"Waza ni karada ga tsuite ikanai, Nōryoku ga tairyoku o koete irunda. Daijōbuka, Echizen…"


Echizen Kimi ga oshiete kureta koto
Shōri ni Shūchaku o suru kihaku Ishiki ga nakunatte mo tatakau
Jibun no genkai sura wakaranai
Daijōbuka Echizen


"`Dameda!"
"Hyakuren jitoku no kiwami ga… osaekomareteru!"


Omae no sugata-sa ni me o ubawarete kita oretachi daga
Ima Omae no ayau-sa ni ichimatsu no fuan ga yogiru


O chibi Buzama na sugata mitakunai
Dakeredo Ippo mo hiku ki ga nai
Don'na pinchi ni ochītte demo
Akiramezu purei shite iru
Ganbare yo Echizen


"Gēmu Rikkai!"
"Don'na waza mo… dare no waza mo… nani mo tsūyō shinai"


10-Nen ni ichido no itsuzai ga sorotta
Gun'yuu kakkyo no kono toshi
Reberu appu! Mō ichi dankai
Reberu appu! Koko ga shōnenba
Reberu appu! Omaenara dekiru


Reberu appu! Makeruna Echizen
Reberu appu! Reberu appu! Reberu appu!

「越前 お前はテニスの押し子。
それゆえ 上達が早すぎる…」
「技に体が付いていかない、能力が体力を超えているんだ。大丈夫か、越前…」


越前 君が教えてくれた事
勝利に 執着をする気迫
意識がなくなっても戦う
自分の限界すら分からない
大丈夫か越前


「だめだ!」
「百錬自得の極みが…押さえ込まれてる!」


お前の姿さにめを奪われてきた俺達だが
今 お前の危うさに一抹の不安がよぎる


おチビ 無様な姿見たくない
だけれど 一歩も引く気がない
どんなピンチに陥ってでも
あきらめずプレイしている頑張れよ越前


「ゲーム立海!」
「どんな技も…誰の技も…何も通用しない」


10年に一度の逸材が揃った
群雄割拠のこの年
レベルアップ! もう一段階
レベルアップ! ここが正念場
レベルアップ! お前ならできる
レベルアップ!負けるな越前
レベルアップ!レベルアップ!レベルアップ!

Echizen, you've always been persistent in tennis.
Because of that, you advanced too fast.
His body can't keep up with his techniques.
His mental abilities exceed his physical strength.


Echizen, you taught me how to cling to victory with everything I have.
Fight on, even if you lose your senses.
Your limit is still unknown.
Will you be alright, Echizen?


"It's useless."
"Hyakuren Jitoku no Kiwami is working against him!"


Even though our eyes are focused on your form,…
… right now, a feeling of anxiety crossed your danger.

Ochibi, I don't want to see this unsightly form.
Yet, you don't give in even one step.
No matter what kind of PINCH you run into, you keep PLAYing without giving up.
Do your best, Echizen!


Game, Rikkai!
Any technique, anyone's technique, nothing works!


Once every ten years, a pool of exceptional talents gathers together.
This is that year.


LEVEL UP! Another level.
LEVEL UP! This is the moment of truth.
LEVEL UP! You can do it.
LEVEL UP! Don't lose, Echizen.
LEVEL UP! LEVEL UP! LEVEL UP!

Source
Ad blocker interference detected!
Wikia is a free-to-use site that makes money from advertising. We have a modified experience for viewers using ad blockers

Wikia is not accessible if you've made further modifications. Remove the custom ad blocker rule(s) and the page will load as expected.