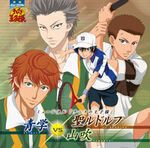 'Marionette' (マリオネット Marionetto) is a song exclusive to the second season of TeniMyu.
It's performed in:
人はいつでも一人 だから友を求める
さりげない優しさで つながる喜び HAND IN HAND


君は今 誰かと 時を分かち合っているのか?
君は今 どこかに 自分の場所を見つけ出したのか?


人は孤独を知って 初めて愛感じる
なにげない一言で 消え去る寂しさ HAND IN HAND


僕の言うとおりに動け
君は僕のマリオネット
君の心を思い通りに動かすよ
僕は天下無敵のクリエイター

Marionette
Shōri wa shinario ni
Yakusoku sa rete iru noda
Kishōtenketsu
Boku ga kaita shinario wa muteki
Kishōtenketsu
Boku ga sōsa suru rarī wa suteki

勝利はシナリオに
約束されているのだ
起承転結 
僕が描いたシナリオは無敵
起承転結 
僕が操作するラリーは素敵

Victory is guaranteed by my scenario.
My well written scenario is invincible.
My well performed rally is wonderful.

Marionette (3rd)
Boku no iutoori ni ugoke
Kimi wa boku no MARIONETTE
Kimi no kokoro wo omoidoori ni ugokasu yo
Boku wa tenkamuteki no KURIETA

TENISU no shiai wo kouchiku suru
Boku no omowaku toori ni ugokanakereba
kimi wa RUSA haiboku wo kisu

Shouri no SHINARIO ni yakusokusare te iru no da
Kishoutenketsu boku ga egaite SHINARIO wa muteki
Kishoutenketsu boku ga sousasuru RARI wa suteki

Sou KOTO wa boku no gekijou
Saigo no hakushukassai wo hitorijimesa

僕の言う通りに動け
君は僕のマリオネット
君の心を思い通りに動かすよ
僕は天下無敵のクリエイター

テニスの試合を構築する
僕の思惑通りに動かなければ
君はルーザー 敗北を帰す

勝利はシナリオに約束されているのだ
起承転結 僕が描いたシナリオは無敵
起承転結 僕が操作するラリーは素敵

そうコートは僕の劇場
最後の拍手喝采を独り占めさ

Sources
Ad blocker interference detected!
Wikia is a free-to-use site that makes money from advertising. We have a modified experience for viewers using ad blockers

Wikia is not accessible if you've made further modifications. Remove the custom ad blocker rule(s) and the page will load as expected.