Maruyama Shun

Now

-

TeniMyu

Information
Japanese Name
丸山 隼(まるやま しゅん)
Romaji
Maruyama Shun
Born In
Tokyo, Japan
Birthday
October 1, 1992
Age
24
Character
Horio Satoshi
Generation
Seigaku 5th
Portrayers
Previous
Yamada Ryo
Next
Masui Kento
Shun Maruyama (丸山 隼 Maruyama Shun), born on October 1, 1992, is a Japanese actor from Tokyo, Japan. He's headed by Sun Music Brain.
In TeniMyu he played the fifth-generation Horio Satoshi as a part of Seigaku 5th. The musical was Maruyama's theater as well as his musical debut in his entertainment career.
TeniMyu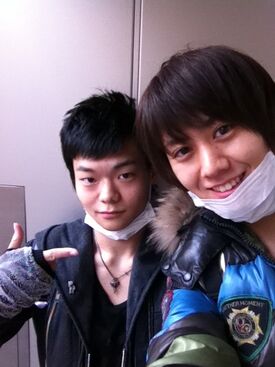 Theater
舞台「青の祓魔師」(May 11-17, 2012)
Filmography
TV
魔弾戦記リュウケンドー(2006年1月、テレビ東京)
湯けむりドクター華岡万里子の温泉事件簿2(2006年12月、テレビ東京)松本良太役
佐賀のがばいばあちゃん(2007年1月、フジテレビ)小6和彦役
愛の流刑地(2007年3月、日本テレビ)
受験の神様(2007年7月、日本テレビ)丸岡隼役・レギュラー
月曜ゴールデン 浅見光彦シリーズ「漂泊の楽人」(2007年10月、テレビ朝日)
Movies
日本の青空(2007年3月)
私は貝になりたい(2008年11月)
Websites
Ad blocker interference detected!
Wikia is a free-to-use site that makes money from advertising. We have a modified experience for viewers using ad blockers

Wikia is not accessible if you've made further modifications. Remove the custom ad blocker rule(s) and the page will load as expected.