Masuda Toshiki (増田俊樹 Masuda Toshiki) was born on March 8, 1990 and is a voice actor, musical performer, and singer. He's headed by Space Craft Entertainment.
In TeniMyu he plays the role of Yukimura Seiichi up until the end of season one in Dream Live 7th as a part of Rikkai B.
After his graduation from the musical, he's taken on various voice-acting roles in animes. Notably, he's the voice of Kamishiro Ryoga in Yu-Gi-Oh! Zexal Second.
Masuda collaborated with Shiraishi Kuranosuke's seiyuu Hosoya Yoshimasa in a musical duo group named MAXBOYS. Together they released an ten-track album titled Taisetsuna Uta.
TeniMyu
Theater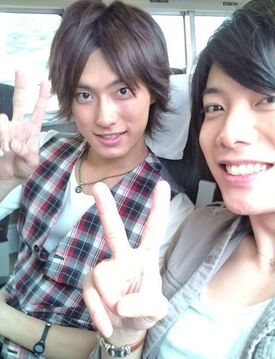 コントンクラブ 〜image3〜 (2010年6月9日 - 13日 シアターサンモール)
abc★赤坂ボーイズキャバレー(2010年8月 - 9月、赤坂ACTシアター他)- 小宮山淳平役
『メモ・リアル』the PARTY!(2011年1月8日 - 23日 ヤクルトホール他)
増田俊樹-二十歳のエチュード-(2011年3月4日 - 6日 ウッディシアター中目黒)
『メモ・リアル』the THEATRE!(2011年9月18日 - 10月2日 全電通ホール他)
『リバースヒストリカ』(2011年11月23日 - 27日 シアターサンモール)
『ヌード・マウス』(2012年1月24日 - 29日 赤坂レッドシアター)
Filmography
TV
Movies
Voice Acting
Children Who Chase Lost Voices (movie) as Villager
Haikyu!! (TV) as Chikara Ennoshita
JoJo's Bizarre Adventure (TV) as Soldier (ep 24)
Kimi no Iru Machi (OAV) as Takashi Yura
Kimi no Iru Machi (TV) as Takashi Yura
Muromi-san (TV) as Masuda-kun (ep 11)
Oreshura (TV) as Shintani (ep 8)
Pretty Rhythm Rainbow Live (TV) as Announcer (ep 11); Boy 1 (ep 6); Kazuki Nishina
Samurai Flamenco (TV) as Masayoshi Hazama/Samurai Flamenco
Yu-Gi-Oh! Zexal (TV) as Ryōga Kamishiro
Yu-Gi-Oh! Zexal II (TV) as Ryōga Kamishiro
Websites
Ad blocker interference detected!
Wikia is a free-to-use site that makes money from advertising. We have a modified experience for viewers using ad blockers

Wikia is not accessible if you've made further modifications. Remove the custom ad blocker rule(s) and the page will load as expected.