Matsuzaki Yutaka

Now

-

TeniMyu

Information
Japanese Name
松崎 裕(まつざき ゆたか)
Romaji
Matsuzaki Yutaka
Born In
Tokyo, Japan
Birthday
July 24, 1978
Age
38
Character
Tanishi Kei
Generation
Higa 1st
Portrayers
Previous
N/A
Next
Tomotsune Yuuki
Yutaka Matsuzaki (松崎 裕 Matsuzaki Yutaka), born on July 24, 1978 in Tokyo, Japan, is a Japanese actor. He's headed by Hirata Office Co. He began acting in 2005 with his movie debut in Adversity Nine (逆境ナイン), though his entertainment career began as a part of an indie band.
In TeniMyu he played the first-generation Tanishi Kei and the only portrayer of him for the first season.
Matsuzaki guest-starred in Luke C.'s live concert, "Fiesta to Future" in September 29, 2009.
TeniMyu
Theater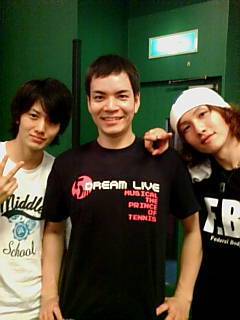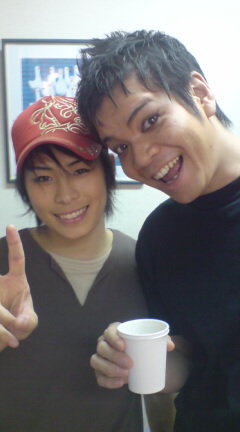 錆びた少女 
青春四谷怪談
SHANDYGAFF STRANGER 1
シナヤカナ青い猿
ROCKミュージカル『ピンク スパイダー』(2011年3月8日 - 27日)
スーパーミュージカル「聖闘士星矢」(2011年7月28日 - 31日、全労済ホール / スペース・ゼロ) - オリオン星座のジャガー 役
スーパーミュージカル『聖闘士星矢』再公演(2011年12月22 - 25日、天王洲銀河劇場)- オリオン星座のジャガー 役
TAKEDOWN & POUNDER(2012年9月14日~9月16日、新宿シアターブラッツ)
Filmography
TV
スパイ道~スパイ上等 - 野口役
ミステリー民俗学者 八雲樹 第8話
ザ・ライバル「少年サンデー・少年マガジン物語」(2009年5月5日、NHK) - 梶原一騎 役
ブザー・ビート〜崖っぷちのヒーロー〜(2009年7月13日、フジテレビ)- 遠藤勇二 役
まほろ駅前番外地 第9話(2013年3月8日、テレビ東京)- 星の部下3 役
Movies
逆境ナイン(2005年) - スナイパー東郷 役
SHINOBI(2005年) - 卍谷村人 役
魁!!クロマティ高校(2005年) - 不良 役
IMPRINT(2006年) - 若い衆 役
風之舞(2007年) - 宮城要 役
クローズZERO(2007年) - ヤンキー 役
銀色のシーズン(2008年) - スキーレスキュー隊員松浦 役
木槿の花(2008年)
ガチバンMAX II(2010年)- 哀川幸司 役
ギャングスタ(2011年) - タイソン 役
Silent Love in Japan - 主演
Websites
Ad blocker interference detected!
Wikia is a free-to-use site that makes money from advertising. We have a modified experience for viewers using ad blockers

Wikia is not accessible if you've made further modifications. Remove the custom ad blocker rule(s) and the page will load as expected.