Ryosuke Mikata (味方良介 Mikata Ryōsuke), alternatively spelled as Mikata Ryousuke, is a Japanese actor from Tokyo, Japan. He was born on October 25, 1992 and has been active in the entertainment business since 2011.
He's headed by PROMAX Inc.
In TeniMyu he played the role of Yagyuu Hiroshi as a part of Rikkai 2nd, the third-generation Rikkai cast.
TeniMyu
Theater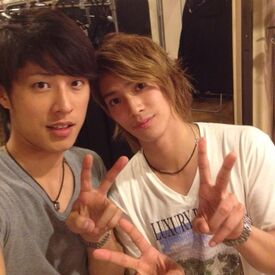 ミュージカルコンサート『恋するブロードウェイ♪』 (2011年11月3日、赤坂BLITZ)
劇団TipTap 「Count Down My Life」 (2012年2月16日-26日、ザムザ阿佐谷)
ママと僕たち (2013年5月6月21日~30日、AiiA Theater Tokyo)
ミュージカル『薄桜鬼』土方歳三篇(2013年10月2日-11日、日本青年館 大ホール)- 山南敬助 役
恋するブロードウェイ♪vol.3(2014年2月-4月、EX THEATER ROPPONGI)
Filmography
TV
Movies
Websites
Ad blocker interference detected!
Wikia is a free-to-use site that makes money from advertising. We have a modified experience for viewers using ad blockers

Wikia is not accessible if you've made further modifications. Remove the custom ad blocker rule(s) and the page will load as expected.