Mitsuya Ryo

Now

-

TeniMyu

Information
Japanese Name
三津谷 亮(みつや りょう)
Romaji
Mitsuya Ryō
Born In
Aomori Prefecture, Japan
Birthday
February 11, 1988
Age
29
Character
Fuji Shusuke
Generation
Seigaku 6th
Portrayers
Previous
Hashimoto Taito
Next
Yata Yusuke
Ryo Mitsuya (三津谷 亮 Mitsuya Ryō), born on February 11, 1988 in the Aomori Prefecture, Japan, is a Japanese actor. He's headed by Watanabe Entertainment and is part of D2, a subgroup of D-BOYS.
In TeniMyu he played the sixth-generation Fuji Shusuke, the first for the second season of the productions. As seen in the musical's first non-musical event, Undoukai 2012, he's notably skilled at riding unicycles.
TeniMyu
Theater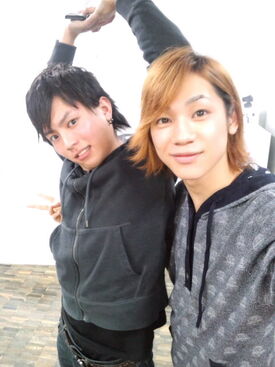 D-BOYS STAGE vol.3 鴉〜KARASU〜04(2009年4月、青山劇場/シアターBRAVA!)
鴉〜KARASU〜10(2009年10月、青山劇場/シアターBRAVA!)
ミュージカル 忍たま乱太郎(2010年6月 - 7月、シアターGロッソ)立花仙蔵 役
優しい6つの夜のために(2010年8月、表参道GROUND)
Dステ12th「TRUMP」(2013年1月 - 2月、サンシャイン劇場/ABCホール)ソフィ・アンダーソン/ウル・デリコ 役
Filmography
TV
D2のメシとも!(2011年8月22日 - 9月8日、朝日放送)大阪編 担当
TV・局中法度!(2012年10月 - 2013年3月、テレビ神奈川・千葉テレビ放送・テレビ埼玉・サンテレビジョン)武田観柳斎 役
Movies
学校裏サイト(2009年)真田真一 役
タクミくんシリーズ4 Pure〜ピュア〜(2010年)高林泉 役
ポールダンシングボーイ☆ず(2011年)ミッチー 役
忍たま乱太郎(2011年)照星 役
Websites
Ad blocker interference detected!
Wikia is a free-to-use site that makes money from advertising. We have a modified experience for viewers using ad blockers

Wikia is not accessible if you've made further modifications. Remove the custom ad blocker rule(s) and the page will load as expected.