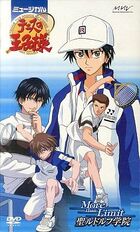 This performance covers the matches between Seigaku and the rival school St. Rudolph Gakuen.
More Than Limit featured Ohkuchi Kengo temporarily portraying the role of Tezuka and Kitamura Eiki filling in for Kawamura. Meanwhile, this is Endo Yuya's first appearance in the musical rather than a Dream Live.
More Than Limit St. Rudolph Gakuen ran from July 29 to August 8, 2004 and August 11 to August 15, 2004.