Eiji Moriyama (森山栄治 Moriyama Eiji) is born October 3, 1976. He works as both a seiyuu and an actor. Moriyama is also a member of the entertainment group *pnish* and is headed by Production Ogi. He voices the character Ibu Shinji in The Prince of Tennis.
During his TeniMyu run he was part of the first-generation Seigaku cast and played the role of Momoshiro Takeshi. After his graduation, he later joined various musicals and productions, notably as Abarai Renji in Rock Musical Bleach and the role of Sanada Genichirou in The Prince of Tennis: The Movie.
In 2010 he was invited back into TeniMyu to reprise his role as Momoshiro in Dream Live 7th and again in 2013 for Dream Live 2013. Additionally, he played the role of Echizen Nanjiroh for the final plot-related performance of the second season of TeniMyu, Seigaku vs. Rikkai ~ Nationals, serving as a double-cast for Motoyama Shinnosuke.
TeniMyu
Theater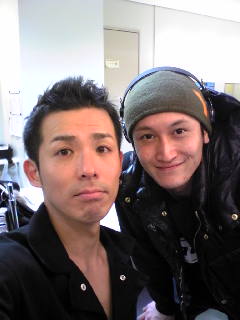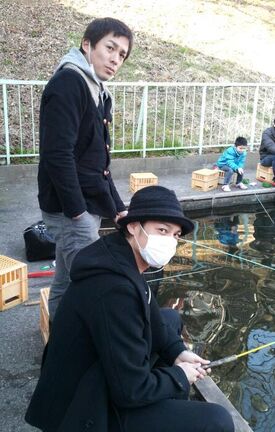 ロックミュージカル BLEACHシリーズ(阿散井恋次役)
ロックミュージカル BLEACH
ロックミュージカル BLEACH 再炎
ロックミュージカル BLEACH The Dark of The Bleeding Moon
ROCK MUSICAL BLEACH the LIVE 卍解SHOW code001
ロックミュージカル BLEACH No Clouds in the Blue Heavens
ROCK MUSICAL BLEACH DX(ROCK MUSICAL BLEACH THE ALL,THE LIVE 卍解SHOW CODE:002)
ROCK MUSICAL BLEACH the LIVE 卍解SHOW code003
Other Performances
シロ×クロ公演
pnish本公演、プロデュース公演
タワーリングライフ
CROSS ROAD
OH! BABY(沢村栄治)
コミックジャック
燃えよ剣
ハレルヤ
ZIPPER
アンジェラ
ジャンプフェスタバンダイステージ 「ONE PIECE」(ロロノア·ゾロ)
bambino
SHOW-GO produce「エンディングノート~ゆるやかな絶望~」
エブリ リトル シング
SAMURAI 7(ヒョーゴ)
その男
琉球ロマネスク テンペスト
この愛よ叶うなら嬉しいよ(2012年7月12日-16日、シアターグリーン BIG TREE THEATER)
pnish on vol.8東京(2012年10月3日~14日)名古屋(20日21日)
男子ing!!(2012年11月21~25日  SPACE107)
西川きよし芸能生活50周年記念公演 コメディ水戸黄門 (2013年9月6日-28日、なんばグランド花月)
Filmography
TV
59番目のプロポーズ(2006年7月11日、日本テレビ)合コン相手役
恋愛診断(2007年)
美しい隣人(2011年、フジテレビ)相田和史役
金曜プレステージ・特別企画 悪女たちのメス(2011年12月9日、フジテレビ)日比野信吾役
恋愛ニート〜忘れた恋のはじめ方(2012年、TBS)小早川隆志役
ゴーストママ捜査線〜僕とママの不思議な100日〜(2012年、日本テレビ)鶴田健一役
金曜プレステージ・特別企画 女秘匿捜査官 原麻希 アゲハ(2012年7月13日、フジテレビ)五島秀之役
VISION-殺しが見える女-(2012年、読売テレビ)浜倉カヅキ役
タンクトップファイター(2013年、毎日放送)磯村英二役
金曜プレステージ・スペシャルドラマ 鬼女(2013年6月28日、フジテレビ)塚原有役
金曜プレステージ・壮絶!女のミステリー第3弾 強行犯係・魚住久江〜ドルチェ2(2013年11月15日、フジテレビ) - 吉沢徹
Movies
Websites
Ad blocker interference detected!
Wikia is a free-to-use site that makes money from advertising. We have a modified experience for viewers using ad blockers

Wikia is not accessible if you've made further modifications. Remove the custom ad blocker rule(s) and the page will load as expected.