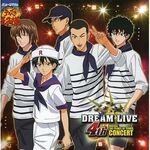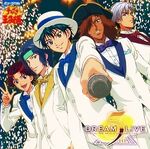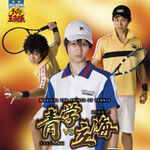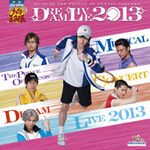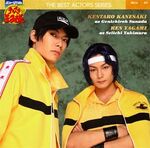 'Mou Mayoi wa Nai' (もう迷いはない Mō mayoi wanai) is performed in:
Tomo no nukumori ga senaka wo oshite kureru

Yasashii ippo fumidasu toki ga kita

Kibishii mirai ga machi uketeiru kamo shirenai

Ima wa kokoro yasuraka ni kisetsu wo uke tomeyou


Taisetsu na mono wo mamoru tame no yuuki wo

Oshiete kureta yamai to iu shiren

Tesaguri de asu wo sagasanakereba naranai darou

Shikashi nakama wo shinjite massugu mae wo miyou


Mou mayoi wa nai

Mou urei wa nai

Hito wa shiawase ni naru tame ni umarete kita no dakara

Mou mayoi wa nai

Mou urei wa nai

Itami to hikikae no yume wo kimi ni ageyou

幸村 友のぬくもりが 背中を押してくれる
   優しい一歩 踏み出す時が来た
   厳しい未来が 待ち受けているかもしれない
   今は 心安らかに 季節を受け止めよう


真田 大切なものを 守るための勇気を
   教えてくれた 病という試練
   手探りで明日を 探さなければならないだろう
   しかし 仲間を信じて まっすぐ前を見よう


2人 もう迷いはない
   もう憂いはない
   人は幸せになるために 生まれてきたのだから
   もう迷いはない
   もう憂いはない
   痛みと引き換えの夢を 君にあげよう

Sources
Ad blocker interference detected!
Wikia is a free-to-use site that makes money from advertising. We have a modified experience for viewers using ad blockers

Wikia is not accessible if you've made further modifications. Remove the custom ad blocker rule(s) and the page will load as expected.