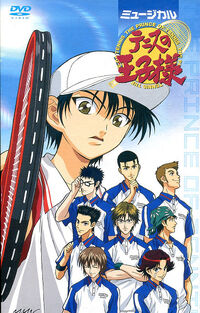 The first ever performance of TeniMyu, Musical Tennis no Ohjisama, covers the first arc of the story, from Echizen Ryoma's Seigaku debut to the end of the first Seigaku ranking matches.
During the summer run of this musical, the roles of Kikumaru Eiji and Kawamura Takashi were played by Nagayama Takashi and Morimoto Ryoji.
Musical Tennis no Ohjisama ran from April 30 to May 5, 2003 at the Tokyo Metropolitan Art Space. Summer performances ran from August 7-8 and August 13 to August 15, 2003.


Ad blocker interference detected!
Wikia is a free-to-use site that makes money from advertising. We have a modified experience for viewers using ad blockers

Wikia is not accessible if you've made further modifications. Remove the custom ad blocker rule(s) and the page will load as expected.