Nishijima Kento

Now

-

TeniMyu

Information
Japanese Name
西島 顕人(にしじま けんと)
Romaji
Nishijima Kento
Born In
Kanagawa Prefecture, Japan
Birthday
June 11, 1990
Age
27
Character
Taki Haginosuke
Generation
Hyotei 2nd
Portrayers
Previous
N/A
Kento Nishijima (西島顕人 Nishijima Kento), born on June 11, 1990, is a Japanese actor from the Kanagawa Prefecture of Japan. He's currently headed by T.M. Lab.
In TeniMyu he plays the role of Taki Haginosuke as a part of Hyotei 2nd. Because the character was not introduced in the first season of the production, that makes Nishijima the first portrayer of Taki Haginosuke.
TeniMyu
Theater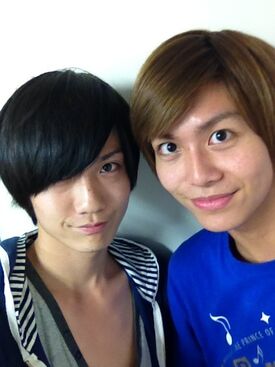 D-BOYSステージ Vol.2 ラストゲーム(2008年6月-7月、青山劇場/イオン化粧品シアターBRAVA!)
新宿ミッドナイトベイビー(2009年7月、新宿シアターサンモール)
劇団夜想会アトリエ公演 ミュージカル誠 That's 新撰組~志士たちの遺言~(2011年1月、六本木アトリエフォンティーヌ) - 沖田総司 役
俺は、君のためにこそ 死ににいく(2011年4月、紀伊國屋ホール) - 坂東勝次 役
ミュージカル誠~とびだせ新選組~(2012年3月、俳優座劇場) - 沖田総司 役
男子ing!!(2012年3月-4月、新宿SPACE107)- 近藤 役
劇団CORNFLAKES第8回公演 体感季節(2012年5月、中目黒キンケロシアター)- 三島楠人 役
舞台VitaminZ(2012年8月、前進座劇場) - 方丈慧 役
TUFF STUFF ウォルター・ミティにさよなら(再演)(2012年10月-11月、サンリオピューロランド内ディスカバリーシアター/横浜相鉄本多劇場) - 山崎裕二 役
MT工房 The ghost≠You-Re:i(2012年11月、シアターサンモール) - 寺尾学 役
不消者(けされず)第18回公演 冬の鼠(2013年2月-3月、中目黒キンケロシアター) - 永橋健二 役
男子ing!!(2013年3月、俳優座劇場) - 近藤 役
Filmography
TV
男子ing!!(2012年9月-2013年2月、TOKYO MX)- 近藤 役
「テストの花道」花道の先輩ドキュメント(NHK Eテレ)
「チェックタイム」イケメンSELECTION ぶっかけ男子(TOKYO MX)
Movies
ソラから来た転校生(2013年春) - ミュート 役
Websites
Ad blocker interference detected!
Wikia is a free-to-use site that makes money from advertising. We have a modified experience for viewers using ad blockers

Wikia is not accessible if you've made further modifications. Remove the custom ad blocker rule(s) and the page will load as expected.