Mitsuaki Nishimura (西村ミツアキ Nishimura Mitsuaki), born on May 8, 1989, is a Japanese actor from Osaka, Japan. He's currently headed by Big Apple.
In TeniMyu he served as an alternate for Ookawa Genki for his role as Kirihara Akaya as a part of Rikkai B, the final Rikkai cast of the first season of TeniMyu.
TeniMyu
Theater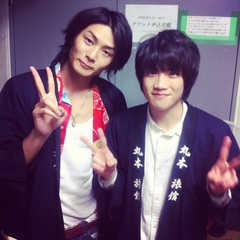 『クリフパーティー』~ゼッペキでつどおう~ (2008年8月)
Romeo×Juliet (2010年6月)
舞台『トライフル』 (2010年7月-8月)
劇団VitaminX ~Legend Of Vitamin~ (2010年9月26日 - 10月4日、前進座劇場) - 仙道清春 役
降臨FIGHT(2011年4月6日~12日、吉祥寺シアター)
スーパーミュージカル『聖闘士星矢』再公演(2011年12月22〜25日 天王洲銀河劇場)- アンドロメダ瞬 役
Filmography
TV
イケメンデルの法則(2010年2月18日)
月曜ゴールデン「警視庁再犯防止課 真崎英嗣〜ある少年との5日間の危険な約束〜」(2011年8月1日) - 西山勇人 役
カエルの王女さま(2012年4月 - 6月) - 八木 役
Movies
携帯動画『最恐ダーリン』2009年秋配信予定
『ガチバンMAX』2010年08月
『君と僕との約束』(BeeTV)2012年4月~
Websites
Ad blocker interference detected!
Wikia is a free-to-use site that makes money from advertising. We have a modified experience for viewers using ad blockers

Wikia is not accessible if you've made further modifications. Remove the custom ad blocker rule(s) and the page will load as expected.