Nishiyama Takeya

Now

-

TeniMyu

Information
Japanese Name
西山 丈也(にしやま たけや)
Romaji
Nishiyama Takeya
Born In
Shizuoka Prefecture, Japan
Birthday
October 9, 1985
Age
31
Character
Konjiki Koharu
Generation
Shitenhoji A
Portrayers
Previous
N/A
Next
Iizumi Manabu
Takeya Nishiyama (西山丈也 Nishiyama Takeya), born on October 9, 1985, is a Japanese actor and voice actor. He's headed by Sunaoka Office, the same agency overlooking TeniMyu affiliates such as Baba Toru and Hayashi Akihiro.
In TeniMyu he played the role of Konjiki Koharu as a part of Shitenhoji A, the first-generation Shitenhoji cast.
TeniMyu
Theater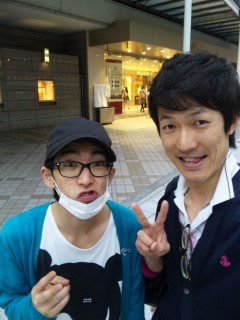 BIG FACE PRODUCE VOLUME20 シアターX提携公演 笑う女。笑われる男 FINAL「あなたの声に背中を押され」(2010年2-3月)- 諏訪 役
劇団ムジカフォンテ ファミリーミュージカル『青い鳥』(2010年4月) - ナベの精 役
MOSH SHORT COLLECTION 02「勝手にしやがれ」(2012年4月19日‐22日、GEKI地下リバティ)
トウキョウ演劇倶楽部プロデュース公演Vol.2「Moonlight Rambler(ムーンライト・ランブラー)~月夜の散歩人~」(2013年7月19日~22日、俳優座劇場、2013年8月8日~11日、きゅりあん小ホール
ペルソナ3 the Weird Masquerade ~群青の迷宮~ (2014年9月16日-23日) 榊貴 隆也 役
Filmography
TV
Movies
Voice Acting
アスタロッテのおもちゃ!(係員)
イタズラなKiss #15
Websites
Ad blocker interference detected!
Wikia is a free-to-use site that makes money from advertising. We have a modified experience for viewers using ad blockers

Wikia is not accessible if you've made further modifications. Remove the custom ad blocker rule(s) and the page will load as expected.