Ogasawara Hiroaki

Now

-

TeniMyu

Information
Japanese Name
小笠原 大晃(おがさわら ひろあき)
Romaji
Ogasawara Hiroaki
Born In
Shizuoka, Shizuoka Prefecture, Japan
Birthday
November 9, 1982
Age
34
Character
Kawamura Takashi
Generation
Seigaku 4th
Portrayers
Previous
Watanabe Kouji
Next
Kon Teyu
Hiroaki Ogasawara (小笠原大晃
Ogasawara Hiroaki
), born on November 9, 1982, is a Japanese actor from Shizuoka, Shizuoka Prefecture, Japan.
In his earlier years Ogasawara competed in various championships for karate, winning numerous awards in his career. Nowadays he occasionally participates in karate competitions and is a member of the All Japan Karate Federation.
During his time in TeniMyu, Ogasawara played the role of the fourth-generation Kawamura Takashi for the cast's first two musicals before leaving the production and having Kon Teyu take his place.
TeniMyu
Theater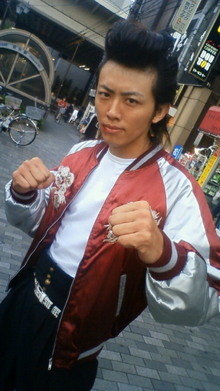 芝増上寺『信長』
お笑い新宿スタジオアルタライブ ※MCアシスタント
マッスルミュージカル(2005年冬、2006年春)
神戸コレクション2007(メンズゲスト)
Be With プロデュース
VOL.2 灰とダイヤモンド(2008年4月23日~27日)
VOL.3 THE LONG KISS★GOOD NIGHT (2008年6月19日~22日)
avex 20th Anniversary~ 「ココロノカケラ」(2008年9月15日~29日)at 青山劇場
TUFF STUFF プロデュース 「火男の火」(2008年12月20日~12月22日)at シアターアプル
メモリーズ4 (2009年4月1日~4月12日)at シアターサンモール
とき語り 源氏物語 (2009年4月28日~5月1日)
abc青山ボーイズキャバレー(2009年10月12日~10月25日)at 青山円形劇場
FROG-新撰組寄留記-(2010年7月1日~7月4日) 沖田総司 役
ストラルドブラグ-魔神邂逅-(2010年10月13日~10月17日)at シアターサンモール
マクベス(2010年12月22日~12月25日)at 新国立劇場
ヴェニスの商人(2011年9月8日~9月11日)at 新国立劇場
甘い恋のジャム(2011年10月14日~10月23日)
土曜日の音楽室(2012年1月21日~1月22日)
Filmography
TV
熱血!サンタマリア(2001年・フジテレビ)
愛なんていらねえよ夏(2001年・TBS)
CAとお呼びっ!(2006年・日本テレビ)※第1話ゲスト
あいのり(2007年・フジテレビ)
踊る!さんま御殿(2009・日本テレビ)
熱血!ホンキ応援団(2009 11~・テレビ朝日)レギュラー
私をドライブに連れてって(2009 12・テレビ朝日)
スポーツパラダイス(2011 2・静岡朝日テレビ)
Movies
Websites
Ad blocker interference detected!
Wikia is a free-to-use site that makes money from advertising. We have a modified experience for viewers using ad blockers

Wikia is not accessible if you've made further modifications. Remove the custom ad blocker rule(s) and the page will load as expected.