Ogasawara Ken

Now

-

TeniMyu

Information
Japanese Name
小笠原 健(おがさわら けん)
Romaji
Ogasawara Ken
Born In
Aichi Prefecture, Japan
Birthday
July 14, 1986
Age
31
Character
Sanada Genichirou
Generation
Rikkai 2nd
Portrayers
Previous
Kanesaki Kentarou
Ken Ogasawara (小笠原 健 Ogasawara Ken), born on July 16, 1986 in the Aichi Prefecture of Japan, is a Japanese actor and model. Since 2009 he's worked in various theatrical productions, and since then has also ventured into the TV entertainment industry as well. Notable TV works include サキよみ ジャンBANG! (Saki Yomi Jan Bang!) and もえ×こん (Moe x Kon).
In TeniMyu he plays the role of Sanada Genichirou as a part of the second season's Rikkai 2nd cast. Though the cast is techinically the third cast overall, he's the second portrayer of the character (Kanesaki Kentarou played Sanada for both Rikkai A and B).
TeniMyu
Theater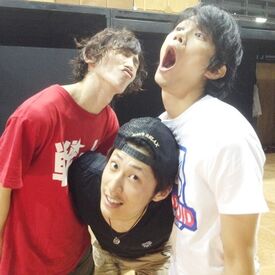 Ronben Project vol.3「愛…ですね~ショーパブ紫~」 - イゾルデ役(2009年10月16日-18日、小劇場てあとるらぽう
FROG~新撰組寄留記 - 原田左之助役(2010年7月)
FROG~新撰組Jade Keeper - 原田左之助役(2010年9月)
リビング★デッド - 斎間こうじ役(2011年1月23-30日)
ミュージカル「DEAR BOYS」 - 藤原拓弥役(2011年5月)
2069 - ミサオ役(2011年8月)
FRAG~新撰組Vermillion Order - 原田左之助役(2011年9月)
強流-GOAL- ステージ vol.1「この部屋の片隅で」22日14時公演ゲスト出演(2011年10月21-23日、荻窪魁ホール
コントンクラブ image7 - 速見 役 他(2013年5月29日-6月9日、銀座博品館劇場)
pnishプロデュース 『RADIO KILLED THE RADIO STAR』 - 伊集院佳祐 役(2013年6月26日-7月7日、俳優座劇場)
abc★赤坂ボーイズキャバレー表 FINAL!『最後の放電!』~自分に喝を入れて勝つ!~ - 二川隆介 役(2013年8月7日(水)-8月11日(日)、赤坂ACTシアター/2013年8月17日(土)-18日(日)、シアターBRAVA!)
デスティニー(2013年10月 - 11月)ガルーダ 役
舞台【BASARA 第2章】(2014年1月9日 - 1月14日)那智 役
Filmography
TV
戦国鍋TV 〜なんとなく歴史が学べる映像〜 ヒカル役(2011年)
「東京日和」
WOWOWドラマ「誘拐」ホスト役
「14歳~千原ジュニアたった一人の闘い」生徒役
「執事喫茶にお帰りなさいませ」
「もえ×こん」(2012年6月12日、13日)
「サキよみ ジャンBANG!」(2012年7月13日)
Movies
Websites
Ad blocker interference detected!
Wikia is a free-to-use site that makes money from advertising. We have a modified experience for viewers using ad blockers

Wikia is not accessible if you've made further modifications. Remove the custom ad blocker rule(s) and the page will load as expected.