Ohira Shunya

Now

-

TeniMyu

Information
Japanese Name
大平 峻也
Romaji
Ōhira Shunya
Born In
Tokyo, Japan
Birthday
February 8, 1994
Age
23
Character
Kato Kachiro
Generation
Seigaku 6th
Portrayers
Previous
Hirai Hiroki
Next
Mitsui Ryo
Shunya Ohira (大平峻也 Ōhira Shunya), born on February 8, 1994, is a Japanese actor from Tokyo, Japan.
In TeniMyu he played the sixth-generation Kato Kachiro, the first for the second season of the production.
TeniMyu
Theater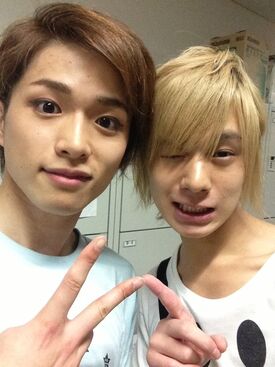 舞台出演「プレゼント◆5」 - 2013/4/24(水) ~ 2013/4/28(日)
プレゼント◆5 side:三日月 - 2013年8月7日(水)~11日(日)
『勝手に!ドルフェス2013』(2013年10月6日、東京 品川ステラボール)(構成・演出 富田昌則)- 『プレゼント◆5』ほか
『プレゼント◆5 -満月にリボンをかけて-』(2013年10月30日-11月10日、東京 CBGKシブゲキ!!/ 11月16日・17日、愛知 テレピアホール)- サクヤ 役(※4月上演『プレゼント◆5』、8月上演『プレゼント◆5 side:三日月』の再演。日替わりで上演予定。)
Filmography
TV
フジテレビスペシャルドラマ「介護犬ムサシ」
テレビ東京「RHプラス」(13歳の道隆役)
日曜劇場「本日も晴れ。異状なし」(中学時代の照屋光生役) TBS
天てれドラマ「ミラクルシャッター」(ヒデキ役) NHK
Movies
Websites
Ad blocker interference detected!
Wikia is a free-to-use site that makes money from advertising. We have a modified experience for viewers using ad blockers

Wikia is not accessible if you've made further modifications. Remove the custom ad blocker rule(s) and the page will load as expected.