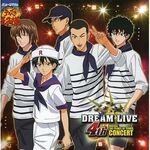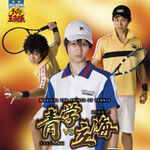 'Oishi no Territory' (大石のテリトリー Ōishi no teritorī), alternatively written as 'Ooishi no Territory' or 'Oishi's Territory', is performed in:
Doko made mo shinka suru Aitsu wa todomaru koto wo shiranai
Hirogaru shubi no ryouiki wa Ooishi no TERRITORY


"Nante KONBINE-SHON da!"


Migoto na made no saiki Aitsu no jitsuryoku yosoku dekinai
Mugen no kougeki han'i wa Ooishi no TERRITORY


"Nanda, ano FORMATION wa..."
"Mamori no EKISUPA-TO Ooishi wo jiku ni, aete Kikumaru wo ushiro ni sueru.
Soshite aite no ichiban chikai basho kara jyoukyou wo handan shi,
Ooishi ga GE-MU MEIKU suru"
"Sore dake ja nai. Futatsu no RE-ZA- no uchi, hitotsu wo fuujiteiru"
"Hontou da. Sakki kara Yagyuu wa RE-ZA- wo utete inai!"


Kanji sasenu BURANKU Aitsu no yoryoku wa hakarishirenai
Masaka no sensei kougeki Ooishi no TERRITORY


"Ooishi no yatsu, ushiro wo mieteiru no ka?"
"Tashika ni ippou no RE-ZA wa fuujiraremashita.
Shikashi..."
"U!"
"Dame da ROBU wa. Niou wa otori daa!"
"Kimitachi wa mada, watashi no RE-ZA ni fureru koto sura dekimasen ne"
"Yagyuu ni shin no RE-ZA wo utareru!"
"DROP SHOT...?"
"Kore nite owari desu... ADIEU"
"Ma-da da yo!! Kikumaru BAZU-KA!"


"Netto daa!"
"DONMAI Eiji. Tsugi, kimete ikou!
DABURUSU ni wa mugen no kanousei ga arun dakara"
"OO-!"

Ute Mamore Kaese Semero
Juuou mujin no kuukan haaku ryoku
COART wa omae no nawabari da
Ooishi no TERRITORY


"Aitsura..."
"Oretachi no souzou wo haruka ni koeta na"
"Mada shinka suru darou ne... GOLDEN PAIR"

どこまでも進化する あいつはとどまる事を知らない
広がる守備の範囲は 大石のテリトリー


見事なまでの再起 あいつの実力予測できない
無限の攻撃範囲は 大石のテリトリー


感じさせぬブランク あいつの余力は計り知れない
まさかの先制攻撃 大石のテリトリー


打て 守れ 返せ 攻めろ
縦横無尽の空間把握力 コートはお前の縄張りだ
大石のテリトリー

Sources
Ad blocker interference detected!
Wikia is a free-to-use site that makes money from advertising. We have a modified experience for viewers using ad blockers

Wikia is not accessible if you've made further modifications. Remove the custom ad blocker rule(s) and the page will load as expected.