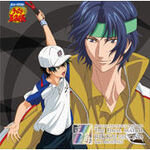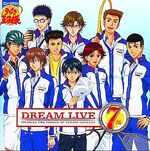 'Omae wa Prince' (お前はプリンス Omae wa purinsu), also known as 'You are the Prince' is seen in:
Tsuppashitte ke Echizen
Pojitibu ni semekonde yuke
Tenisu ni omae o ugokashite iru


Namaiki na dakedo Echizen
Daremo ga nattoku shichimau
Tenisu ga omae no pāsonariti


Kō janakya purinsu obu tenisu
Purinsu tenisunoōjisama
Sorede koso purinsu obu tenisu
Purinsu tenisunoōjisama


Daisuki na tenisu
Kakegaenonai tenisu
Itoshi teru ze tenisu
Omae koso omae koso
Oretachi no purinsu tenisu no ōjisama iei!

突っ走ってけ越前
ポジティブに攻め込んでゆけ
テニスにお前を動かしている


生意気なだけど越前
誰もが納得しちまう
テニスがお前のパーソナリティ



こうじゃなきゃ プリンス オブ テニス
プリンス テニスの王子様
それでこそ プリンス オブ テニス
プリンス テニスの王子様


大好きなテニス
かけがえのないテニス
愛してるぜテニス
お前こそ お前こそ
俺たちの プリンス テニスの王子様 イエイ!

Race ahead, Echizen.
Keep attacking positively.
You´ll change the meaning of TENNIS.


You are impertinent, Echizen.
But, everyone will agree,…
…that TENNIS is your personality.


That´s how it is, the PRINCE OF TENNIS
The PRINCE, the PRINCE OF TENNIS
That´s right, the PRINCE OF TENNIS
The PRINCE, The PRINCE OF TENNIS


The TENNIS you love,
The TENNIS you treasure.
The TENNIS you hold dear.
You are, you are…
…our PRINCE, our PRINCE OF TENNIS. YEEY!

Source
Ad blocker interference detected!
Wikia is a free-to-use site that makes money from advertising. We have a modified experience for viewers using ad blockers

Wikia is not accessible if you've made further modifications. Remove the custom ad blocker rule(s) and the page will load as expected.