Omi Yoichiro

Now

-

TeniMyu

Information
Japanese Name
近江 陽一郎(おおみ よういちろう)
Romaji
Ōmi Yōichirō
Born In
Saitama Prefecture, Japan
Birthday
April 5, 1989
Age
28
Character
Mori Tatsunori
Generation
Fudomine 2nd
Portrayers
Previous
N/A
Next
Kobayashi Tatsuya
Yoichiro Omi (近江陽一郎 Ōmi Yōichirō), born on April 5, 1989, is a former Japanese actor from the Saitama Prefecture of Japan. He's headed by Watanabe Entertainment and is part of D2, a subgroup of the agency's major acting male acting troupe, D-BOYS.
In 2009, Omi won the Special Jury Prize at the sixth D-BOYS audition. Later he would join D2 in April 2010.
During his time in TeniMyu, he played the first Mori Tatsunori as a part of Fudomine 2nd, the second-generation Fudomine cast. Because the first-generation substituted both characters Mori and Uchimura out of Remarkable 1st Match Fudomine and In Winter 2004-2005 Side Fudomine ~Special Match~, Omi's appearance as Mori Tatsunori was a debut role followed by others such as Hyotei's Taki Haginosuke.
TeniMyu
Theater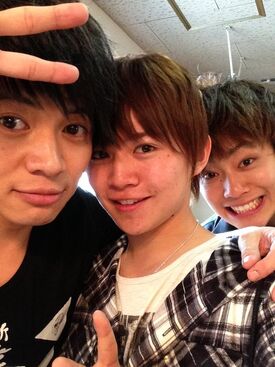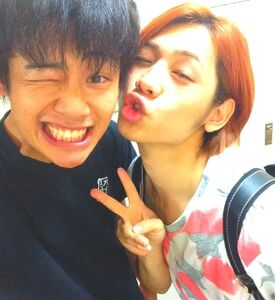 ミュージカル 忍たま乱太郎 再演(2010年6月 - 7月) - 食満留三郎 役(主演)
D-BOYS STAGE 2010 trial-2『ラストゲーム』(2010年7月 - 9月)
にぎやかカラー(2011年4月) - 大森正二 役
少年ハリウッド(2011年4月) - 日替わりゲスト
VISUALIVE『ペルソナ4』(2012年3月) - 巽完二 役
VISUALIVE『ペルソナ4』the EVOLUTION(2012年10月) - 巽完二 役
コーパス・クリスティ 聖骸(2012年9月)
Dステ12th「TRUMP」(2013年1月 - 2月) - グスタフ/ミケランジェロ 役
Dステ13th「チョンガンネ 〜おいしい人生お届けします〜」(2013年4月 - 5月) - チファン 役
Dステ14th「十二夜」(2013年10月) - アントーニオ 役
Filmography
TV
D×TOWN 第3弾「ボクらが恋愛できない理由」(2012年6月、テレビ東京) - 西村悟 役
黒の女教師 第5話(2012年8月、TBS) - 高校生 役
おとりよせ王子 飯田好実(2013年4月 - 、メ〜テレ、ひかりTV、tvk) - 飯田好実 役(主演)
Movies
ポールダンシングボーイ☆ず(2011年) - ヨウイチロウ 役
青いソラ白い雲(2012年) - 山崎翼 役
百年の時計(2012年) - 安藤行人(若年期) 役
Websites
Ad blocker interference detected!
Wikia is a free-to-use site that makes money from advertising. We have a modified experience for viewers using ad blockers

Wikia is not accessible if you've made further modifications. Remove the custom ad blocker rule(s) and the page will load as expected.