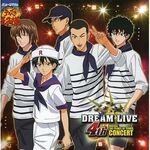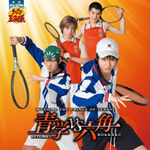 'Onnanoko to Chuu' (女の子とチュー On'nanoko to chū), also known as 'To Kiss with a Girl' is a song featured in:
First Season
Onnanoko to chuu!
Mitete ne Onnanoko Kukyou kara haiagaru BOKU


Yoroshiku ne Onnanoko Gyakuten suru no tte kakkoii daro

Kono shiai ni katta BOKU wa Kawaii onna no ko kara Hikute amata

Maishuu nichiyoubi ni wa DATE Yori tori mitori



Onnanoko to chuu!

Yattaze Onnanoko Mazu wa 1 GAME dasshu desu

Nottekuze Onnanoko Atto iu ma ni san GAME oitsukuzo

Kaidou wo yabutta BOKU ni NICE na onna no ko tachi Nekkyou daze

LOVE LETTER no yama ni kakomare Mote mote kibun



Onnanoko to chuu!

Doudai Onna no ko BOKU no sugosa ga wakatta kai

Horeru daro Onnanoko Kimi no tame ni SMASH kimete yaruze

Otto kiken na dakyuu daze Kono BOORU NETTO ni ate IN sasenakucha

Kawaii onna no ko to isshou Chuu mo dekinai



Onnanoko to chuu!

女の子とチユーーーー!
見ててね 女の子 苦境から 這い上がるボク


よろしく 女の子 逆転するのってかっこいいだろ

この試合に勝ったボクは 可愛い女の子から 引く手あまた

毎週日曜日にはデート より取り見取り



女の子とチユーーーー!

やったぜ 女の子 まずは1ゲーム奪取です

乗ってくぜ 女の子 あっという間に3ゲーム追いつくぞ

海堂を破ったボクに ナイスな女の子達 熱狂だぜ

ラブレターの山に囲まれ モテモテ気分



女の子とチユーーーー!

どうだい 女の子 僕の凄さが分かったかい

惚れるだろ 女の子 君のためにスマッシュ決めてやるぜ

おっと危険な打球だぜ このボールネットに当て インさせなくちゃ

可愛い女の子と一生 チユーもできない



女の子とチユーーーー!

To Kiss with a Girl
Watch me, Girls, I'll crawl up from a pinch


Remember me, Girls, I'm cool turning the flow around

If I win this match, I'll be popular with the cute girls

Every Sunday I'll have a date



To kiss with a Girl

I did it Girls, I took one game

I catch up Girls, in the blink of an eye I'll take 3 games

If I defeat Kaidou, Nice Girls will be crazy about me

I'll feel popular surrounded by piled up Love letters



To kiss with a Girl

How is it Girls, Do you understand my awesomeness

You will fall in love Girls, I decided to Smash for you sake

It's a dangerous ball, if it won't go in after hitting the net

I can't kiss with a cute Girl in my whole life



To kiss with a Girl

Second Season
見ててね 女の子 苦境から這い上がるボク
よろしくね 女の子 逆転するのってかっこいいだろ

この試合に勝ったボクは 可愛い女の子から 引く手あまた

毎週日曜日にはデート より取り見取り



女の子とチュ―――――!

やったぜ 女の子 まずは1ゲーム 奪取です

乗ってくぜ 女の子 あっという間に3ゲーム 追いつくぞ

海堂を破ったボクに ナイスな女の子達 熱狂だぜ



ラブレターの山に囲まれ モトモト気分

Sources
Ad blocker interference detected!
Wikia is a free-to-use site that makes money from advertising. We have a modified experience for viewers using ad blockers

Wikia is not accessible if you've made further modifications. Remove the custom ad blocker rule(s) and the page will load as expected.