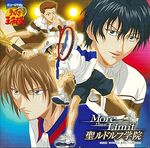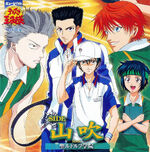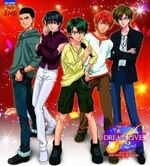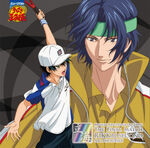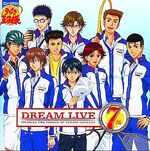 This is a solo song sung by KENN, who played Fuji Yuuta in the first season of TeniMyu. The original song title is 俺は俺の名前で呼ばれたい (Ore wa ore no namae de yoba retai) while the English translation is 'I Want to be Called by My Own Name'.
'Ore wa Ore no Namae de Yobaretai' is featured in:
Aniki ga nanda

ore yori saki ni umareta dake ja nai ka

shoubu no sekai de wa oya mo kyoudai mo nai

dochira ga tsuyoi ka tada sore dake


HARD TRAINING ato wa konjyou

aitsu e no nikushimi wo ENERGY ni

HARD TRAINING seishinryoku sa

kaze wo okosuze SENSATIONAL ni


miseru shiai de nattoku saseru

aniki wo gyafun to iwasereba

ore wa ore no namae de yobareru darou


Tensai ga nan da

dare ka ga o seji ni

itta dake ja nai ka

toryoku no nai toko ni shin no shousha wa i nai

nan ni mo shinai de kateru mon ka


HARD TRAINING kutsujoku bane ni

aitsu e no urami tsurami tama ni kome

HARD TRAINING isshinfuran

shougeki teki ni kachi tsuzukeru no sa


aitsu ni me ni monomisete yaru ze

futari no hyouka kutsugaereba

ore wa ore no namae de yobareru darou

ore wa ore no namae de yobaretai

兄貴がなんだ。

俺より先にうまれただけじゃないか。

勝負に世界では親も兄弟もない。

どちらが強いかただそれだけ


Hard Training後は感情。

あいつへの憎しみをエネルギーに。

Hard Training精神力さ。

風を起こす センセーショナルに

見せる試合で納得させる。

兄貴をぎゃふんといわせれば。

俺は俺の名前で呼ばれるだろう


天才が何だ

誰かがお世辞に言っただけじゃないか

努力のない所に 真の勝者はいない

なんにもしないで 勝てるもんか


Hard training屈辱バネに

アイツへの恨みつらみ球に込め

Hard training一心不乱

衝撃的に 勝ち続けるのさ

あいつに目に物見せてやるぜ

二人の評価覆れば

俺は俺の名前で呼ばれるだろう


俺 は俺の名前で呼ばれたい

What about an older brother?

Isn't he just born before me?

In the world of victory and defeat, neither parents nor siblings exist

"Who is the strongest", that is all there is


After the HARD TRAINING comes my will-power…

I turn the hatred for that guy into ENERGY

From the HARD TRAINING comes my emotional strength…

That wakes up the wind SENSATIONAL!


I'll make you understand in this match

If I silence my brother

I'll be called by my own name!


What about a genius?

Isn't it just flattery?

Winning without any effort isn't real

It's impossible to win without any effort


Within all the humiliation of my HARD TRAINING

I'll put all the pent-up resentment into my shot

I endure my HARD TRAINING with a single-hearted devotion

I'll continue to win at a shocking pace


I'll show him what I can do

If I can just shatter our values

I'll be called by my own name!

I want to be called by my own name!

Sources
Ad blocker interference detected!
Wikia is a free-to-use site that makes money from advertising. We have a modified experience for viewers using ad blockers

Wikia is not accessible if you've made further modifications. Remove the custom ad blocker rule(s) and the page will load as expected.