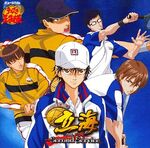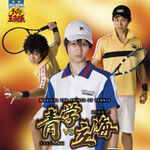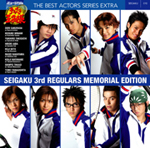 'Ore wo Taose' (俺を倒せ) is a song performed alongside 
Omae wa Seigaku no Hashira ni Nare
 and has yet to be performed individually.
It's seen in:
Doushita Echizen Ore wo taoshite miro
Enryou wa iranaizo Zenryoku de koi


Omae no jitsuryoku wa sonna mono de wa nai hazu da


Tashikani Echizen Taishita rikiryou da

Daga sono teido de wa Joushou wa muri


Kono mamajya zenkoku de katsu koto wa dekinai darou


Onore no naka ni hisomu  Senzai nouryoku wo kaihou shiro

Ore ga zettai kaisenai shotto wo uttekoi


Uttekoi Uttekoi Uttekoi


Soshite shinka shiro Echizen


Doushita Echizen Kore de owari na no ka?

Chi wo hau omae nado Mitaku mo naizo

Omae no jitsuryoku wa sonna mono de wa nai hazu da


Tachiagare Soshite mae o miro

Ima wa tada no sutaato rain

Hashire Tobe Uchi kome

Dakyuu wo mirai e to uchikaese

Omae wa Seigaku no hashira ni nareru otoko

どうした 越前 俺を倒してみろ
遠慮はいらないぞ 全力で来い


お前の実力はそんなものではないはずだ


確かに 越前 大した力量だ

だがその程度では 常勝は無理

このままじゃ全国で勝つことは出来ないだろう

己の中に潜む 潜在能力を開放しろ

俺が絶対返せないショットを打って来い

打って来い 打って来い

そして進化しろ 越前


どうした 越前 これで終わりなのか?

地を這うお前など 見たくもないぞ

お前の実力はそんなものではないはずだ


立ち上がれ そして前を見ろ

今はただのスタートライン

走れ 跳べ 打ちこめ 打球を未来へと打ち返せ

お前は青学の柱になれる男

Sources
Ad blocker interference detected!
Wikia is a free-to-use site that makes money from advertising. We have a modified experience for viewers using ad blockers

Wikia is not accessible if you've made further modifications. Remove the custom ad blocker rule(s) and the page will load as expected.