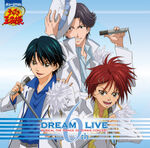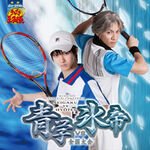 'Poker Face Fighter ~ Active Volcano' (ポーカーフェイス・ファイター/アクティブ・ボルケイノ Pōkāfeisu faitā/ Akutibu borukeino) is performed in:
Mitsumeru omae no hitomi kara

Arayuru shikisai keshisarou

Aka ka midori ka ao ka kiiro ka

Yomitoru koto wa mou dekinaize


Jiyuu jizai no kontorooru

70 paasento no chikara de

Tsuyoi ka yowai ka osu ka hiku no ka

Omae no waza wa mou mikittazo


Keiken Shiren Tsuchikatta hibi

Sonna omae no senryaku ni wa

Kokoro wo tozasu koto de Kata sukashi wo kurawasu


Ore wa Ima Muhyoujouna senshi

Pookaafeisu faitaa


"Hona, zenryoku de shitomerude!"


"Yappari ore ni wa, sore shika nee yo na~!"


"Jakku naifu da!!"


"Naruhodo... Kusemono ya na..."


"Kaeshita! Robu da!!"


"Zenhan nanajuu paasento no chikara de aite no me wo sono supiido ni

Naresasu koto de, hyaku paasento no chikara wo

Sore ijou ni enshutsu suru koto ga dekiru wa naa, Momoshiro. Seya kedo..."

"Uooo~~!!"


"Dame da Momo! Sumasshu wa..."


"Kiguu ya naa... Ore mo koko made nanajuu paasento yatta wa!"


"!"


"Dodo~n!"


"Aitsu! Kore made nanajuu paasento nanka ya nai wa.

Yonjuu paasento ka sanjuu paasento..."


Anta no subete wo shihai suru

Kokoro no ugoki wo kanjitoru

Migi ka hidari ka mae ka ushiro ka

Te ni toru you ni wakatte shimau"


Shiai no kooto seigyo suru

Taiyou no ichi wo keisan shi

Ue ka mashita ka yoko ka naname ka

Anta no waza wo fuujikomeyou


Puraido Yudan Kako no eikou

Kanaguri-sutetari ribenji ni wa

Tempenchii no pawaa de Taikou suru shika nai

Ore wa Ima Funkamae no kazan

Akutibu Borukeino

見つめるお前の瞳から

あらゆる色彩消し去ろう

赤か緑か青か黄色か

読み取る事はもう出来ないぜ


自由自在のコントロール

70パーセントの力で

強いか弱いか押すか引くのか

お前の技はもう見切ったぞ


経験・試練・培った日々

そんなお前の戦略には

心を閉ざすことで 肩透かしを食らわす


俺は 今 無表情な戦士

ポーカーフェイス・ファイター


「ほな、全力で仕留めるで!」


「やっぱり俺には、それしかねーよな~っ!!」


「ジャックナイフだっ!!」


「なる程…くせ者やな……。」


「返したっ!ロブだっ!!」


「前半70パーセントの力で相手の目をそのスピードに

慣れさす事で、100パーセントの力を

それ以上に演出する事が出来るわなぁ、桃城。せやけど……」

「うおおお~~っ!!」


「駄目だ桃!スマッシュは……」


「奇遇やなあ……オレもここまで70パーセントやったわ!」


「!」


「どど~ん!」


「アイツ!これまで70パーセントなんかやないわ。

40パーセントか30パーセント……」


あんたの全てを支配する

心の動きを感じ取る

右か左か前か後ろか

手に取るように分かってしまう


試合のコート制御する

太陽の位置を計算し

上か真下か横か斜めか

あんたの技を封じ込めよう


プライド・油断・過去の栄光

かなぐり捨てたリベンジには

天変地異のパワーで 対抗するしかない

俺は 今 噴火前の火山

アクティブ・ボルケイノ

Sources
Ad blocker interference detected!
Wikia is a free-to-use site that makes money from advertising. We have a modified experience for viewers using ad blockers

Wikia is not accessible if you've made further modifications. Remove the custom ad blocker rule(s) and the page will load as expected.