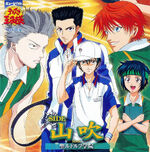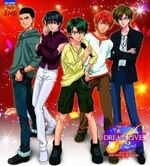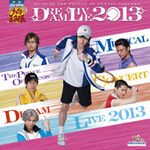 'Power Up de Ikou!' (パ ワーアップで行こう Pa wāappu de ikou) is also known as 'Let's Power Up and Go!'.

It's performed in:
Moeruze tsuyoi teki to tatakau toki wa itsumo

Kimete yaruze yousha wa shinai tetteiteki ni tataku

Kakugo shiro me ni mono misete yaru kara na

Saikou donna doki no orette yappa saikou


POWER UP de ikou!

Yurunda kimochi ni kiai wo irero

POWER UP de ikou!

Giratto kagayaki wo hanatsu misueta manako no naka ni

Hora hora mieru darou POWER

Katsu!


Atsui ze tegowai aite oitsumeru tabi ni

Yatte yaruze uchi ni himetaru soko chikara sakuretsu da

Shoubu shiro doko made mo aite shiteyaru

Batsugun konna toki no orette yappa batsugun


POWER UP de ikou!

Yudan wa taiteki shimete ikou ze

POWER UP de ikou!

Jiwatto wakiagette kuru jibun e no kandou

Soro soro higatsu ze POWER

Katsu! Ore wa katsu!

燃えるぜ 強い敵と戦う時はいつも

決めてやるぜ 容赦はしない 徹底的に叩く

覚悟しろ 目に物見せてやるからな

最高どんな時の織れてやっぱ最高


パワーアップで行ころ!

緩んだ気持ちに気合を入れろ

パワーアップで行ころ!

ギラッと輝きを放つ 見据えた眼の中に

ホラホラ 見えるだろう ポワー 活!


熱いぜ 手ごわい相手を追い詰めるたびに

やってやるぜ 内に姫たる 底力炸裂だ

勝負しろ どこまでも相手してやる

抜群こんな時の俺ってやっぱ抜群


パワーアップで行こう!

油断は大敵締めて行こうぜ

パワーアップで行こう!

ジワッと脇上げって来る自分への感動

そろそろ 火が何く ポワー 活!

俺は勝つ!

I'm burning! Always when I'm fighting a strong opponent

I'll decide it, I won't show mercy, I'll strike powerful

Be prepared! Because I've already seen your strength

I'm the best! No matter when I can do it, I'm really the best!


Power up and go!

I put my strong feelings in the fight

Power up and go!

I emit a dazzling light into your focused eye

Look! Look! Then maybe you can see it, my Power!

Recover!


It's getting hot, every time I corner a tough opponent

I did it, the power I hid inside explodes!

Let's fight! I deceive my opponent everywhere

I'm unique! At such a time I'm really unique!


Power up and let's go!

Carelessness assaults my enemy, let's go!

Power up and let's go!

To my own surprise I get exited

Gradually I'm set on fire! Power!

Recover!


I'll win!

Sources
Ad blocker interference detected!
Wikia is a free-to-use site that makes money from advertising. We have a modified experience for viewers using ad blockers

Wikia is not accessible if you've made further modifications. Remove the custom ad blocker rule(s) and the page will load as expected.