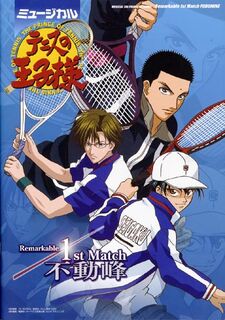 The original cast of this show had Yanagi Kotaro in the role of Echizen Ryoma, Kimeru as Fuji Shusuke, and Nagayama Takashi permanently replacing Yamazaki Ichitaro as Kikumaru Eiji.
Less than two weeks before the premiere, Yanagi was involved in a car accident and hospitalized. Kimeru took over as Echizen, Nagayama was shifted to Fuji, and Ichitaro was brought back as Kikumaru.
Until Yanagi's return in late 2004, the production continued its performances with actor Endo Yuya substituting for him. Though he wasn't entirely physically well when he returned to TeniMyu, the production reprised Remarkable 1st's performance into a musical called In Winter 2004-2005 Side Fudomine ~Special Match~ in which both Yanagi and Endo participated in.
Remarkable 1st Match Fudomine covers the matches between Seigaku and rival school, Fudomine Chuu. It ran from December 30 to December 31, 2003 and January 1 to January 5, 2004.