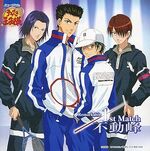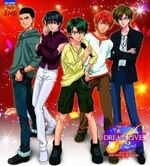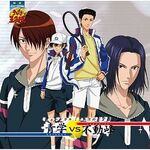 'Rhythm ni Noru ze' (リズムに乗るぜ Rizumuninoruze), also known as 'Riding the Rhythm' debuted in Remarkable 1st Match Fudomine. This is only sung by actors portraying Kamio Akira.
It's performed in:
[Akira] HEY RHYTHM ni noru ze GOTCHA ore dake no RHYTHM da yo
kono SPEED ni kireru no wa kono yo ni hitori dake


HEY RHYTHM ni ageru ze GOTCHA ore no VIBRATION
kanjiteru ma ni idoushiteru sa ore wa soko ni inai


omae wa un no nai haizansha da ne ore no aite ni naru to wa
mijimena sugata sarashite jimen nihire fusu aware na sugata ga mieru ze


HEY BEAT kizamuze GOTCHA ore no kodou no otosa
omae izanau shokei no taiko zankokuna RHYTHM


"RHYTHM ni noru ze"

ヘイ リズムにのるぜ ガッチャ 俺だけのリズムだよ
このスピードに乗り切れるのは この世に一人だけ


ヘイ リズムに上げるぜ ガッチャ 俺のバイブレーション

感じてる間に移動してるさ 俺はそこにいない


お前は運のない敗残者だね 俺の相手になるとは

惨めな姿さらして地面にひれ伏す 哀れな姿が見えるぜ


ヘイ ビートきざむぜ ガッチャ 俺の鼓動の音さ

お前いざなう処刑の太鼓 残酷なリズム


「リズムにのるぜ」

Hey, I am riding the RHYTHM, GOT YA, this RHYTHM just belongs to me
I am the only person who can ride this SPEED


Hey, I'll increase the RHYTHM, GOT YA, my VIBRATION

I am already gone before you see me moving


You are a really unlucky loser to become my opponent

I can see your pitiful figure exposed when you cringe to the ground


Hey, I'll engrave this BEAT, GOT YA, it's the beat of my heart

It's the cruel RHYTHM of the execution drums luring at you


I am riding the RHYTHM

Sources
Ad blocker interference detected!
Wikia is a free-to-use site that makes money from advertising. We have a modified experience for viewers using ad blockers

Wikia is not accessible if you've made further modifications. Remove the custom ad blocker rule(s) and the page will load as expected.